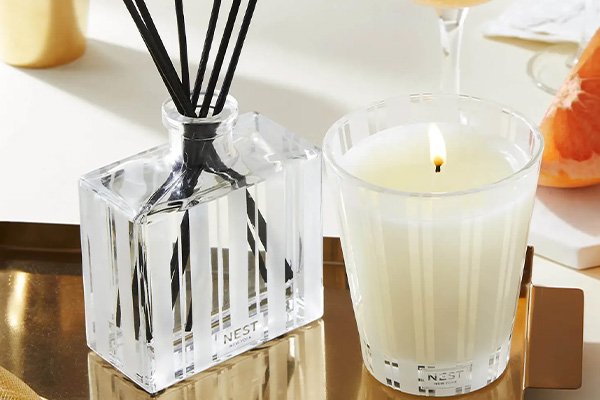 One of the easiest ways to turn your house into a home? Scenting your sanctuary. It goes without saying that the smell of your humble abode is just as (if not more) important than the way it looks and feels.  
Selecting your favourite home fragrances is like picking out perfume, it's all down to personal preference. From floral and fresh notes to amber and woody, you can stick to the same family in every room or mix and match the aromas depending on their mood and furnishings. Read our ultimate home fragrance guide and lift the spirits of both you and your guests. 
WHY IS SCENT SO IMPORTANT
As one of the most underestimated senses, smell actually plays an essential role in our wellbeing, mood and even cognitive function – impressive, we know. Fragrances provide far more than a pleasant odour; they also evoke feelings through the memories associated with each note. Why? Well, the brain uses scents to tie various reminiscences together – whether that be linking the smell of cinnamon with the festive holidays, or the fresh scent of peony with you grandparent's garden.
HOW TO SCENT YOUR HOME
The best way to scent your home is with (you guessed it) a home fragrance. From scented candles to linen sprays, these aromas spread around the room, filling them with a signature scent both you and your guests will be thankful for. But with so many options, how do you know which one works for you and your space? Read on to discover the different types of home fragrances and how they work… 
STOCK UP ON SCENTED CANDLES: Trust us, you can never have too many scented candles – we would even go as far to say that you should stock them up, so you're ready to replenish them once they run out. But, when it comes to picking the perfect one, it's all down to a matter of taste. Think of it like picking your signature scent (but for your home). Opt for notes that fit with the seasons and mood of your house. A case in point? Warm and spicy scents work well in the winter months while fresh florals are ideal for spring and summer.  
How to use the home fragrance: For best results, minimise the risk of smoking by trimming wick after each use and make sure you burn the candle for a good hour the first time you light it. This keeps it burning evenly and boosts the scent throughout the room.