We would suggest backing away from the fifth glass of champagne but don't want to flout the first rule of festivities: namely, eat, drink and end up very merry – even in 2020! It's all well and good getting tipsy on Tuesday, but when you wake up at the weekend and wonder what happened to Wednesday, Thursday and Friday, you probably look like a walking health warning (we're pointing the finger at Advocaat… ouch).
A swift Corpse Reviver can help you feel human but looking alive takes a little more effort. So, quickly equip your make up, skin care and sleep-themed beside table 'rescue kits' with these heroes that help 'fake awake' in your next virtual meeting when the hangover's bangin' as hard as last night's Zoom-party…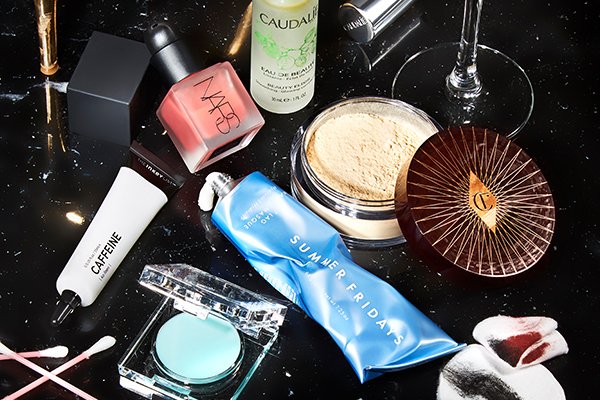 If you don't have a mixologist on speed-dial (you need someone to whip you up the bloodiest of Marys), be your own bartender and reach straight for H3O Hydration (the brainchild of the aptly-branded Rejuvenated Ltd). Created to replenish cells' reservoirs while topping up your precious salts, mix into water (it's pink!) and then sip from your jazziest glass as you stagger around in your dressing gown channelling Holly Golightly.
With your insides revitalised, head for the shower and wake up your face with a strong macchiato for sluggish complexions. frank body's invigorating Original Face Scrub gives skin a much-needed 'zing' in the morning – enlivening parched and lacklustre visages with real coffee grounds and a fresh, minty fragrance.
Your sleep-deprived eyes are the sure-fire sign of late-night activities. Conquer your ocular luggage with SUMMER FRIDAYS' Jet Lag Mask (it's not just for jet lag), then follow up with the Caffeine Eye Cream from THE INKEY LIST – the silky serum shrinks capillaries to send your eye-bags packing.
Feeling fatigued? Silly question… enter: BECCA's pearlescent, peachy-toned Under Eye Brightening Corrector to make light work of dark circles – neutralising shadows so you look more bright-eyed and bushy tailed. And, if you still need assistance, trust Huda Beauty's Overachiever Concealer to vanquish the impact of overindulgence. A flexible, long-wearing, pigment-packed 'fixer', this disappears everything threatening flawlessness.
Ace your base and pretend you're well-rested with Too Faced's phenomenal Hangover Primer – it's brimming with coconut water to quench your cells' thirst and restore misplaced radiance (you left it on the living room dance floor in front of your Zoom Christmas 'do… along with your dignity). Follow with a dewy tinted moisturiser (Your Skin But Better CC+ Illumination SPF 50+ by It Cosmetics is faultless) and a sheer, rosy flush to enliven in seconds. NARS Liquid Blush in shade 'Orgasm' boasts the most flattering blend of pink, coral and golden-toned pigments to give skin a much-needed lift – think: 'hair of the dog' for your less-than-fresh face.
Finish with a sweep of Charlotte's Genius Magic Powder by Charlotte Tilbury – it works like an Instagram filter – and keep a handy bottle of Jordan Samuel Skin's Hydrate the Mist 'al desko' to combat the after-lunch slump. This heavenly, moisturising cocktail of antioxidant-rich red seaweed extract, cucumber extract and glycerin will clear cobwebs, impart glow and make you feel more like yourself. In fact, you might even feel ready for post-work aperitivos… mischief, managed!
SHOP MAKE UP >>