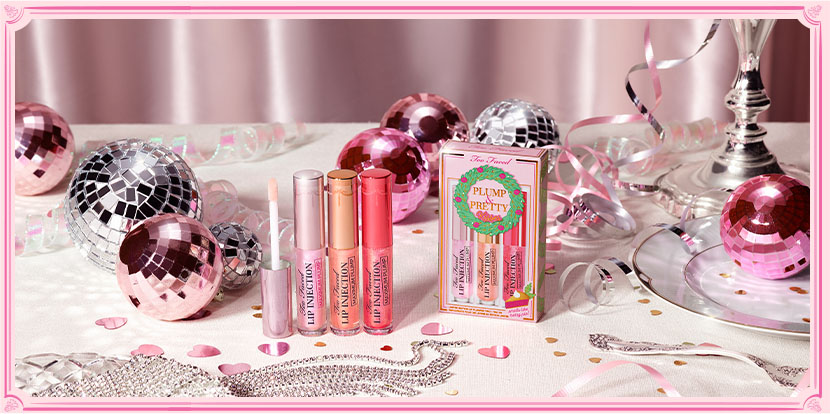 TOO FACED
A cosmetic brand that needs no introduction, Too Faced knows how to have a good time. With unapologetically quirky product names and playful packaging, the brand is built on the idea that expression through make up can give you the ultimate confidence boost. Fusing cutting edge ingredients with innovation, Too Faced dreams up make up marvels that please your eyes, lips, complexion and more...

A 101 Guide to Too Faced
Discover the best Too Faced make up products according to Cult Concierge expert Natalie, plus top tips on how to use them for the ultimate glow-up.
TOO FACED: BORN THIS WAY
Synonymous with coverage that's virtually undetectable, Too Faced's bestselling complexion collection is nothing short of perfection. Spanning from a 35-shade strong foundation to a full-coverage concealer and a look-locking setting powder, these formulas promise a flawless, photo-ready finish.
DISCOVER TOO FACED
Born in 1998, Too Faced wanted to change the make up landscape with fun and expressive products. With that in mind, the brand quickly became an industry leader with innovative techniques and game-changing colours. From the cult classic Lip Injection Lipgloss to the Better Than Sex Mascara, each Too Faced product is as playful as it is powerful.

BORN IN THE 90S
Although a fun decade, 90s make up trends within the cosmetics industry were anything but inspiring. Dark palettes and moody hues were all the rage with pinks, pastels and glitters no-go colours. Looking to make an impact and change the scene of what was the norm of the time, Too Faced founders Jeremy Johnson and Jerrod Blandino launched the first every glitter shadow 'Ohh and Ahh' in 1998— making it an instant sell out. The brand continues to create make up marvels that break the rules — simultaneously dreaming up a new face of beauty.

BESTSELLERS
Taking inspiration from a late-night Viagra commercial, Too Faced Lip Injection Lipgloss has enthralled the beauty sphere since its launch. With a blood-vessel dilating complex, plus an infusion of avocado oil and vitamin E, this smoothing, softening formula plumps your pout for fuller-looking lips... Sans the filler. Another Too Faced marvel with a revolutionary formula (and iconic name), The Better Than Sex mascara has had pride of place in many make up bags. With its ingenious hourglass-shaped brush, it thickens, lengthens and curls lashes with just one coat of pigment.