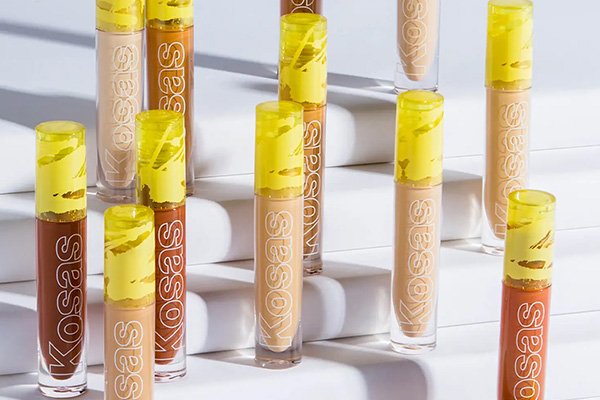 From glazed donut skin to latte make up and cinnamon cookie butter hair (all of which look just as delicious as they sound), Hailey Bieber is — undeniably — the queen of beauty trendsetting. It's no wonder then, that her favourite brands quickly become must-haves in the beautysphere. 
Another Hailey-inspired essential taking over is Kosas… AKA the model's secret to glowing skin and a staple in what she calls her "lazy make up routine".    
"I'm gonna show you guys how I do my skin prep, and then my really easy, quick going out to dinner look," she said in a TikTok video as she showed off her glow-to products. After prepping her complexion with a face mist, serum and moisturiser, Hailey uses two fan-favourites from Kosas' base range: the Kosas Revealer Super Creamy + Brightening Concealer and the Kosas Cloud Set Baked Setting & Smoothing Powder (more on those in a minute).
Here's everything you need to know about Kosas, including which products to stock up on to recreate Hailey's look… 
SKIN CARE MEETS MAKE UP
Founded by multi-talented LA artist Sheena Yaitanes, Kosas unites skin care with cosmetics and boasts botanical-rich formulas plus impeccable shade ranges that are designed to flatter a vast spectrum of skin tones. From bestselling brow pencils to lip oils and fan-favourite foundations, everything is formulated with nourishing, good-for-skin ingredients. 
GET HAILEY'S "LAZY MAKE UP" BASE
Visibly smooth texture and minimise the look of pores while also hydrating and plumping skin with the Kosas Revealer Skin-Improving Foundation. Following the brand's skin–care–meets–make–up ethos, this staple is packed with a powerhouse blend of ingredients including hyaluronic acid, niacinamide, peptides, squalane, Vitamin B5, arnica and caffeine. And that's not all. As well as sporting a natural, second–skin finish, your complexion will be protected from harmful UV rays with SPF 25.