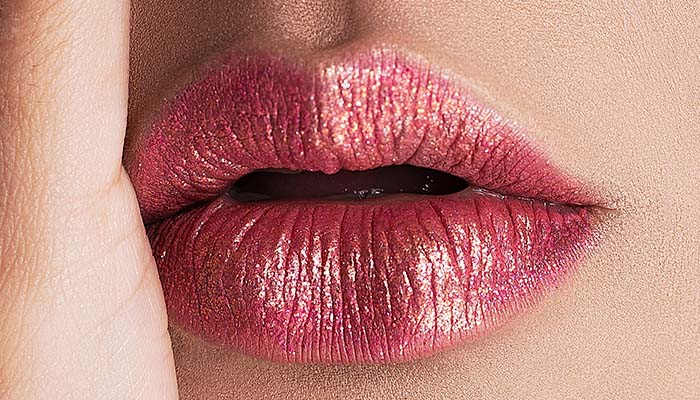 When it comes to the best lip make up, our lips are far from sealed. Brimming with a plethora of cosmetic must-haves, the lip category includes everything from lipsticks and pencils to balms, oils and more. Transforming your look with a single swipe, pout perfectors withstand the test of time.  
Don't know where to start? You're not alone. That's why here at Cult Beauty we've put together the ultimate guide to the best lip make up – uncovering everything from how to determine your lip shape to what products you should be adding to your next beauty haul.  
WHAT IS LIP MAKE UP
It might seem obvious but, just so we cover all basis: lip make up describes a collection of cosmetics used around your (you guessed it) lips, to enhance their overall look. Want to know more about each product type and what they do? Well, head over to our Ultimate Make Up Guide to answer your most commonly asked questions…
HOW TO WEAR LIP MAKE UP ACCORDING TO YOUR LIP SHAPE
Before we dive into the basics of how to use lip make up, it's essential to get up close and personal with your pout – by that, we mean figuring out what lip shape you have and how to enhance it. Lips come in all shapes and sizes: there are full lips, thin lips, wide lips, and everything in between — and they should all be embraced in their own way. 
Not too sure which category yours fall into? Don't worry, we have your chaps covered… Simply, scroll down to find your silhouette.
FULL LIPS
While full lips may look different on everybody, the principle of this silhouette stays the same. In short, they refer to pouts that are evenly plump on the top and bottom. Some might say they're perfectly proportioned. 
Lip make up tips: Lip glosses are a great way to accentuate your pillowy pout, and if you're wanting more definition, dab highlighter on your cupid's bow to emphasis the natural V-shape. Then, follow with a subtle sweep of lip liner to sharpen your corners. Chef's kiss… 
TOP HEAVY LIPS
Doing what they say on the tin, top heavy lips are distinguished by their fuller upper half. Another easy way to identify them is with their unpronounced cupid's bow.  
Lip make up tips: If you want to level out your top-heavy lips, we recommend grabbing your liner and carefully outlining the bottom half, slightly outside your natural line – this will create the illusion of a bigger and bolder pout. To finish, fill them with colour, using a darker shade on your upper lip so it appears slightly smaller.  
WIDE LIPS
Renowned for their cheek-to-cheek smile, wide lips are typically longer than they are fuller. Often extended on the edges and bigger than the rest of your facial features, they are characterised by the breadth of the mouth.  
Lip make up tips: For those who would like to make their lips fuller, take a lighter shade of lipstick or gloss and dab it in the centre of your pout. This will bring more attention to the middle of your chaps while adding a pop off poutiness.  

ROUND LIPS
If your top and bottom lips are the same width all the way around, then you mostly likely have round lips. Good news! This means that more often than not, they will also have a natural pout to them. Plus, your cupids bow will be very soft too.  
Lip make up tips: To shine the spotlight on your lip's silhouette, use a liner to extend your line at the corners before bringing it down to the middle. This will increase the curve considerably. Or, if you have smaller round lips, opt for a light or transparent colour over darker lip tints as they will allow them to appear larger.  
BOTTOM HEAVY LIPS
Just like your top-heavy lips, but in reverse, bottom-heavy lips are – you guessed it – when your lower half is fuller than the top. What's more, it's the second most common silhouette (after a full pout) too! 
Lip make up tips: To sculpt this shape, it's best to move away from lip make up and turn to your complexion heroes – we're talking your firm-favourite foundation or concealer. If you're looking to minimise the lower lip after you've accentuated the top lip, take a concealer and mute out areas you don't want to see. Then, use your liner to create the silhouette you want.  
THIN LIPS
Whether you have naturally thin lips, or your pout has started to delate with age, this silhouette is often compressed, but in line with the rest of your facial features. While your chops may be limited, your overall lip curve can be extended compared to other types.  
Lip make up tips: For those you would prefer a fuller finish, fear not, there are many ways that you can create the illusion of thick lips. A good starting point? Use a face powder to contour your outline and give the impression of shadowing on your skin. Then, the fun begins. Cue: Lip pencils. Bolster your shape by using your liner to overline. For the best results, we recommend focusing on creating more height in the centre, and then connecting them back to your natural edges. You can also use a lighter neutral skin-coloured eyeshadow in the centre of the lip to create an ombre effect. This boosts a more voluminous look. Finish by applying a light-coloured lip plumper. 
HEART-SHAPED LIPS
Heart-shaped lips fuse a pronounced cupid's bow with a sharp bottom lip. Just like all lip shapes, their exact outline may vary between person to person, but the common denominator here is the defined V-shaped bow.  
Lip make up tips: Bring more attention to the heart-shape silhouette by popping a smudge of highlighter on the cupid's bow. Or, if you want to deter away from the contour, simply blur out any sharp edges by blending your colour.  
BOW-SHAPED LIPS
Aptly named, bow-shaped lips have a pronounced cupid's bow that is full in size and resembles a bow tie (get the reference now?). While the bottom lip may not come to a defined point, you can use the same tricks as heart-shaped lips to highlight or soften the middle of your V.  
Lip make up tips: Starting at the cupid's bow, with your liner draw along the line of your lips, going ever-so-slightly outside the line for a fuller look. For a pouty effect, only overline the center of your top and bottom lips. 
DOWNTURNED LIPS
Downturned pouts tend to have a subtle dip at the corners. This usually happens as the lower lip is naturally smaller than the top. An easy way to find out if you have this silhouette is to see if the corners meet or not – if you discover the latter than you most probably have downturned lips.  
Lip make up tips: The key takeaway here is to fill in the corners of your lips with colour. Taking your preferred shade, apply the pigment outwards and upwards. Then, for optimum results take a darker liner to create a shadow and define your bottom lip's silhouette.  
BEST LIP MAKE UP
RIGHT NOW…