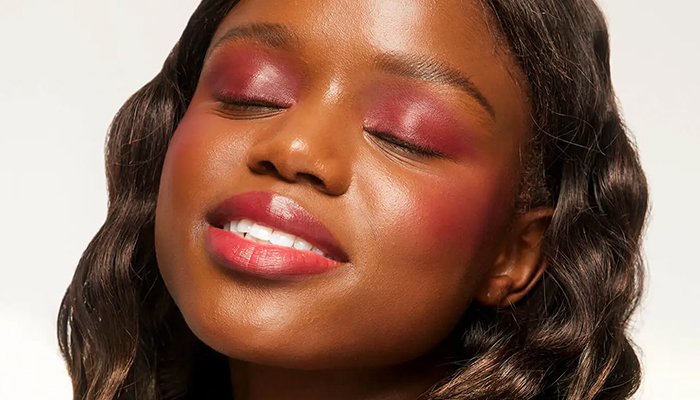 When it comes to make up there are no set rules – it's a form of expression, identity and creativity after all. However, if you're looking at your cosmetic case and feeling overwhelmed, you're not alone. While there isn't a set way to do your make up, there are a several make up tips and tricks that can help you nail down your routine.   
Discover everything from what make up products you need to the order of convenience; we've teamed up with our Cult Concierge expert Connor to answer all your most commonly asked questions. Without further ado, let us introduce you to the ultimate make up guide for beginners.  
FIRST THINGS FIRST, GET TO KNOW YOUR PRODUCTS
It's no secret that an artist is only as good as their tools. So, it's time to get to know your make up bag up close and personal. Read on to discover our A-Z make up guide.  
COMPLEXION
BB & CC Cream – Like your tinted moisturiser, but with added brighteners and minerals, BB and CC Creams are lightweight formulas that create a buildable base. Offering a veil of coverage, they're ideal when going for the barley-there make up look. An initialism for 'beauty balm', BB creams offer sheer coverage, and are best for concealing minor blemishes. The light finish is ideal for "no make up" make up looks. Whereas CC cream stands for 'Colour Corrector' and therefor have a lighter consistency. They typically have a fluffy texture and matte finish.
Blusher – Adding a hint of colour to your cheeks, blushers come in liquid, powder and cream form.  
Bronzer – Creating a natural sun-kissed glow, bronzers accentuate and lift your cheekbones. They are available in liquid, cream, and powder form.  
Concealer – The ultimate multitasker, concealers provide additional coverage to selected areas while also boosting under eye brightness to your overall look. They are available in both matte and dewy finishes.  
Contouring – Contouring involves using light and dark shades to highlight and chisel facial features to make them pop. Adding depth to your look, they are often presented in palettes, but the technique can be achieved by using foundations and highlighters you already have in your cosmetic kit.  
Face Powder – Lending a soft-focus finish to your make up, face powders fix your look with their mattifying, colour-correcting and line-smoothing finish. They come in loose, pressed, tinted or translucent textures.   
Foundation – Available in liquid, cream or powder form, foundations are designed to even out your skin tone and add coverage where wanted. From fresh, dewy skin tints to demi-matte fluids and mineral pigments, they come in various textures and range in coverage.  
Highlighter – Light-reflecting, highlighters enhance your complexion by giving your skin a brighter, dewier glow. They come in liquid, cream, and powder form. 
Primer – Creating an even canvas for your make up, primers blur the look of pores and fill in fine lines to enhance a seamless setting. They can come in all forms, from gels, to creams or sprays and allow your look to last longer.  
Setting Spray – Locking in your look, setting sprays allow your make up to last longer. Ideal for mitigating make up slippage, they banish a dry or cakey-looking base and act as a great pick–me–up. 
Tinted Moisturiser – A less–is–more product, tinted moisturisers blur the lines between skin care and make up. Offering a whisper of tinted coverage, they act as a lightweight hydrator infused with pigments that nourish your complexion. 
EYES
Eye Concealer – Neutralising dark circles and ultra brightening, eye concealers colour correct and lift your under eye.  
Eyeliner – Used for definition, eyeliners enhance your eye's shape and can be used to create different looks from a sleek wing to a smoky smudge effect. Available in gel, liquid, pen, pencil, and crayon form, they come in various colours and density.  
Eye Primer – Ensuring your eyeliner doesn't dissolve by the afternoon, eye primers keep your make up in place. They create a neutral-toned canvas that helps to intensify pigment and ward against creasing. 
Eyeshadow – Typically a pigmented powder or cream, eyeshadows are applied to accentuate your eyes. Allowing you to get creative with your look, they come in an array of colours textures and pallets.  
False Eyelashes – Dialling up the drama, falsies enhance your lash game making them fuller, longer and thicker. Depending on your desired look, they are available in individual and full sets.  
Mascara – Enhancing your eyelashes, mascaras are used to make your lashes longer, fuller, thicker and darker.  
LIPS
Lipsticks – Adding a pop of colour to your pout, lipsticks boost your mouth's fullness. They come in an array of textures, colours and shades.  
Lip Gloss – Creating a high-shine finish, lip glosses can be used for a plumped-up pout illusion. The liquid comes in an array of textures, colours and shades.
Lip Pencils – Designed to enhance the shape of your lips, lip pencils are used to outline the parameters for when applying lipstick. They can also be used to subtly alter your lip shape. 
Lip Plumpers – Plumping up your pout, lip plumpers offer long-lasting and natural fullness. They can be worn alone or layered with our chosen lipstick for the day.  
Lip Stains & Tints – Lending a sheer wash of colour, lip tints and stains sit comfortably between a gloss and lipstick. While tints offer a subtle colour, stains are long-lasting and have the power to stay put all day long.  
BROWS
Brow Gels – Typically clear or tinted, eyebrow gels keep your brow hairs in place. While the clear gels lift, set and separates your brows, tinted iterations add a hint of colours while providing a firm, durable hold.  
Brow Pencils – One of the most versatile products in your beauty bags, brow pencils can be used for everything from filling in your brow line to even creating freckles.   
Brow Pomade – A cream-based formula typically housed in a small pot, brow pomades are used to define and shape your eyebrows as well as filling in any sparse patches that may occur.
Brow Powders – Used for filling in sparse spots, brow powders are an efficient way to define your brow line.  
Brow Wax – Doing what it says on the tin, brow wax freezes your hair in places while boosting them become fuller and fluffier.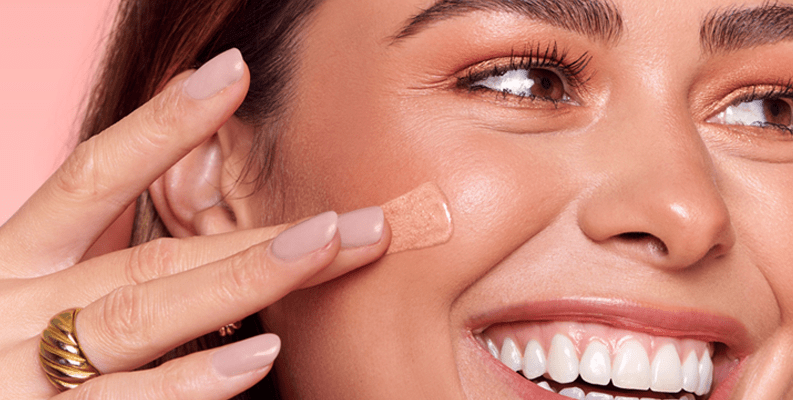 HOW TO APPLY MAKE UP
1. PREP YOUR SKIN
An essential step to ensure your make up doesn't dissolve throughout the day, prepping your skin is a must. Skipping this step could lead to dryness, dullness, and uneven coverage. The trick to keeping you look on lock? Cleanse and moisturise before applying any cosmetics.  
2. PRIME
Next, create an even canvas for your base with a primer. Apply a pea-sized amount to your face and blend in circular motions. Start with the T-zone and move outwards. For best results, those with oily skin should opt for a matte finish product, while those with drier skin should choose a water-based formula.  
3. BUILD YOUR BASE
Now your skin is prepped and primed, it's time to start applying your make up. Colour match your foundation by determining your skin's undertone. Then, dab a few dots of foundation on your T-zone (focusing on your forehead, nose, cheeks and chin). Using either a make up sponge or foundation brush, blend upwards and then outwards. If your skin is on the drier side, choose a dewy, hydrating foundation. Or, if you have and oily complexion go for a matte finish formula.  
4. CONCEAL
Once your base is on, it's time to reach for the concealer. Apply the colour corrector on any areas you want to conceal – these typically being under the eyes, on blemishes, over dark spots and around the nostrils. Dab the formula into your skin using a concealer brush.  
5. SET YOUR BASE
After that, you need to make sure your base sticks – that's where the setting powder comes into play. Simply press the powder onto your skin using a puff. Pressing instead of brushing prevents the slightly wetter products from streaking and helps smooth over any discoloration that may occur. Press the powder under your eyes, alongside your nose, and on your forehead and chin.  
6. CREATE DEFINITION
For those you want to add more definition to their look, listen up. It's time to contour. Available in all sorts of formulas, picking a contour kit can be tricky. If you're new to the technique, then powder is usually the way to go. Using an angled brush, apply your sculpting shade (the darker of the colours) to the hollows of your cheeks, temples, jaw line, sides and tip of your nose and blend. Then, add the highlighting shade on top of the cheekbones, down the centre of your nose, along your lip's cupid bow and brown bone before blending away.  
7. BRUSH ON SOME BLUSH AND BRONZER
Depending on your look, you may want to add some blusher, bronzer…or both. For bronzer use a fluffy brush to blend the formula around your hair line, on your cheek bones and across your jawline. For blush, apply the colour to the apples of your cheeks to create a subtle pop. Move your brush in circular motion to blend as you go. For a brighter and bolder finish layer up the pigments using the same movement.  
8. BUILD YOUR BROWS
With your complexion complete, it's time to focus on your eyebrows. First, comb your natural brows with a clean comb to see the arch you're working with. Then, apply your chosen brow product little by little, filling gaps and building up colour until you're happy with the results. Then, apply some brow wax to keep them in place.  
9. MAKE YOUR EYES POP
When it comes to your eye make up, it's all down to preference. If you want your eyes to pop, start by applying colours to your lids with your favourite eyeshadows. There are no rules when it comes to colours – you can blend various shades, contrast colours, or just use one. After that, apply your eyeliner as close to your lash line as possible. Start by slowly running the pencil, pen, or liquid across the top, then drag across. To add a wing or feline flick create a diagonal line starting from the outer corner towards your eye.   
10. PLUMP UP YOUR POUT
Once you've primed your lips, you can add colour. Start with the liner to outline the shape of your mouth. For a fuller look subtly over line. Then, reach for your chosen lip colour and fill in between the lines.  
11. LOCK IN YOUR LOOK
Before, you pack your beauty bag away, make sure to spritz your face with setting spray. Hold the spray at arm's length, and mist over your entire face, two to four times in an 'X' and 'T' formation.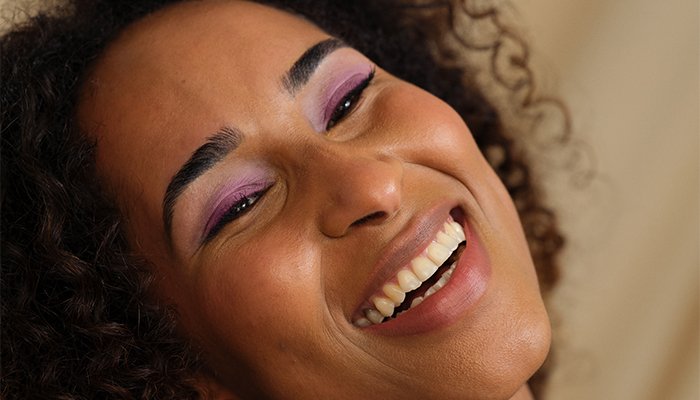 MAKE UP TIPS
YOU DIDN'T KNOW YOU NEEDED…UNTIL NOW
Exfoliate your lips before applying lip colour:

Prepping your lips with a gentle scrub

helps to buff away any dry skin, leaving you with a smoother canvas to apply your products. But

do

n't

use the exfoliators more than once a week

,

as this can cause irritation. 

Powder your lashes:

A little translucent powder can go a long way. Between coats of mascara, dust the powder onto your lashes to enhance their grip when applying products. This little hack will have your lashes looking fuller and more voluminous than ever. 

 

Apply your concealer in a triangle formation:

Rather than dotting concealer under your eyes, 

apply it in an upside-down triangle to brighten any dark circles

 and draw attention up to your pupils.

 

Apply neutral liner to widen your eyes:

Finding a liner a few shades lighter than your skin tone will give the illusion of bigger, brighter eyes. 

 

Clean your tools after every use:

While you only need to deep

clean your make up brushes

once a week, after every use you should spray them with an alcohol solution to ensure that the application of your products is as smooth and seamless as possible. 

 
Now you've read our ultimate make up guide, it's time to get to grips with your cosmetics – and get creative.