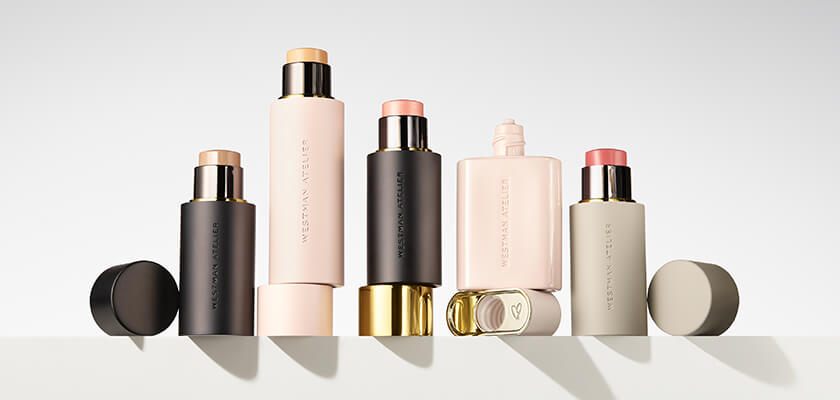 WESTMAN ATELIER
A brand with a conscience, Westman Atelier presents carefully crafted, luxury beauty that's formulated with clean, skin-loving ingredients that improve your complexion over time. Boasting decadent, creamy textures and research-led formulas that effortlessly melt into skin, Westman Atelier marries plant-based actives with cutting-edge science to enhance, calm and balanced skin care and make up.

DISCOVER WESTMAN ATELIER
Dreamt up by editorial make up artist, Gucci Westman, Westman Atelier believes that beauty should always be luxurious, efficient and clean. With that in mind, the brand released its first collection of foundations, blushers, bronzers and highlighters with a plant-first approach. On a mission to provide people with a seamless cosmetic collection, Westman Atelier's dreams up make up that elevates your skin while giving you a radiant glow.
CLEAN BEAUTY
For Westman Atelier clean beauty means three important things. Firstly, to create effortlessly efficient make up that is blended with natural ingredients. Secondly, to balance perfectly pigmented shades with lightweight textures that melt seamlessly into your skin. And, last but by no means least, to passionately commit to researching and assessing every ingredient before fusing the plant-based actives with cutting-edge science.
CLEAN INGREDIENTS
Built on the belief that beauty should be clean, calm and balanced, Westman Atelier ingredients are thoughtfully curated by Gucci Westman in the lab alongside the very best chemists. Here, they work with formulas they know and trust to create nourishing skin care and clean make up that use potent actives at efficacy levels.
CLEAN BEAUTY PROMISE
Striving to be 100% natural in everything it does, Westman Atelier promises to be completely transparent about its formulation. Meeting the European Union's meticulous standards of clean beauty, the brand thoroughly and safely vets and approves all the ingredients it uses. Now, you can feel good knowing exactly what you're putting on your skin.