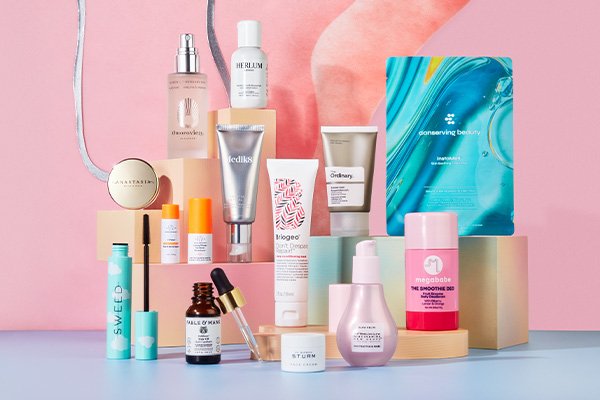 Whether you're trying to pack for a weekend getaway or want to sample TikTok's latest trend, mini beauty products . Saving space in your handbag, gym kit or suitcase, these pint-size wonders ensure your beauty regime is never interrupted – even when you're on the go.  
Paying homage to the tiny treasures, here at Cult Beauty HQ we've rounded-up everything you need to know about travel size saviours. Read on to discover the best minis on the market right now, how to pack your beauty products when traveling and so much more…  
WHAT ARE MINI BEAUTY PRODUCTS
Doing what they say on the tin, mini beauty products are your typical skin care, make up, hair, fragrance and body essentials, but just shrunken down into smaller sizes. Slipping seamlessly into compact compartments, they come in various forms (think sample sachets or travel jars) and are easy to transport between A and B.  
BENEFITS OF MINI BEAUTY PRODCUTS
While there are bountiful benefits that come with mini beauty products, there are two main gains we can't help but shout about… 
They're teeny, tiny and travel size: let's face it, packing your beauty products is like playing a game of Tetris – wedging your toiletries into any free space. Well, that was until we became obsessed with minis. As well as making the art of packing a whole lot easier, they also see you through your daily commute, sleepovers, evenings out and more.  
They allow you to try before you buy: giving you the gift of sampling, minis are the perfect way to test out viral must-haves before fully committing. From make up must-haves to cult cosmetics, there's no need to resist the products your friends have been raving about.  

THE CHALLENGES OF TRAVEL SIZE
Even though these everyday essentials are easy and efficient, there is one downside when it comes to travel size beauty. Unfortunately, they play a big part in contributing to landfill waste. Why? Well, in short, sample size containers are non-recyclable. As a general rule, products less than two inches in size cannot be recycled, meaning that many of the tiny, single-use packets, tubes, and jars are destined for the landfill. But, fear not! This is where our Cult Conscious team comes to the rescue. Scroll down to discover how you can still put your mini's to good use. 
THE RECYCLE ME SOLUTION 
Help lessen the impact of travel size beauty on the planet by adding a Recycle Me bag to your cart with your next beauty buy. While your mini's packaging can't be recycled into similar objects, the Cult Beauty Recycle Me project takes the materials and downcycles them, turning them into plastic boards that can be used for other things. Not only does this avoid your samples from ending up in landfill, but they're getting a second chance of life. Want to know more? Head over to our Recycle Me page and discover everything you need to know about the scheme.  
BEST MINI BEAUTY PRODUCTS
RIGHT NOW…
SKIN CARE