The only acceptable tan lines, our latest self-tanning essentials are changing the way you (faux) glow. So, whether you're feeling decidedly sun-starved or want to prolong your post-holiday bronze, our newest recruits will ensure you stay golden.  Cult Concierge expert  Ryan gives his recommendations of the best self tanners for all your tanning desires…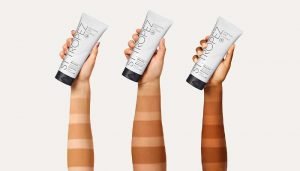 But first…how do self tanners work? Every self tanner contains DHA — a colourless molecule that reacts with the amino acids on the surface cells of the skin causing a chemical reaction (called Maillard Reaction). This little reaction is responsible for the bronzing effect. Literal sunshine in a bottle!
Does self tanner work on dark/deep skin tones? You may be wondering how it works on skin that's blessed with more melanin. Ryan explains that like the lovely glow we get on medium to light skin, faux tan on deeper skin tones "can be great to help reduce the difference between natural skin tone and hyperpigmentation as well as blur and reduce the appearance of scars." Plus Ryan explains that tanners in general are "great at blurring and reducing the appearance of cellulite and accentuate muscles." As if we need more reasons to lather on the golden glow!
Here are Ryan's top tanners:
For a gentle and gradual build up
St. Tropez Gradual Tan Body Lotion Medium-Dark
This light, fast-drying, non-sticky formula gradually creates a gorgeous glow. Suitable for all skin types, it's ultra-hydrating, vegan formula is infused with skin-loving extracts such as firming marine algae, hyaluronic acid (for hydration, duh!), as well as antioxidant-rich blueberry and raspberry seed oils.