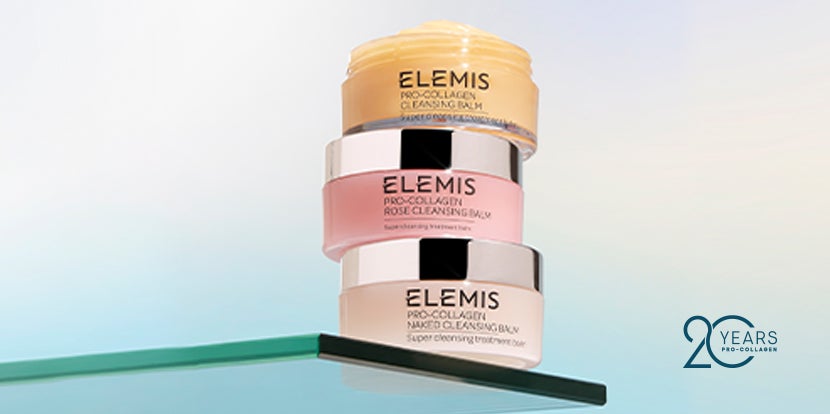 ELEMIS
''Defined by nature, led by science'' is ELEMIS' motto. The brand's products combine natural active ingredients with cutting-edge science and technology to create the most influential products that are tested on 6.5 million spa visitors a year. From the legendary Pro-Collagen Marine Cream to the sublime Superfood AHA Glow Cleansing Butter, these products feel luxurious and really deliver on their promises – no matter what your beauty experience, preference or gender.
SHOP ALL ELEMIS
ELEMIS BESTSELLERS
added to your bag
Sorry, there seems to have been an error. Please try again.
Subtotal: ( items in your basket)
This order will earn status points
Quick Buy
Sorry, there seems to have been an error. Please try again.
ELEMIS: PRO-COLLAGEN ROSE MARINE CREAM
DISCOVER ELEMIS
Founded in London in 1988, ELEMIS is a British skin care brand that has stood the test of time for good reason. When Linda Steiner created the brand more than 30 years ago, her vision was clear: to create a skin care range as close to nature as possible. With the help of co-founding trio Noella Gabriel, Sean Harrington and Oriele Frank, who each had a different area of expertise, the brand focused on innovation and evolved into a skin wellness brand with an aromatherapist's soul, an artist's spirit, and a scientist's commitment to results. Since 2019, the brand has been part of the L'Occitane Group.
DEFINED BY NATURE, LED BY SCIENCE
With that commitment to remaining as close to nature as possible, ELEMIS harnesses the most powerful biological actives from both above and below the earth's surface and combines them with cutting-edge science and technology to create high-performance formulas with remarkable results.
KIND TO YOUR SKIN, WITH PROVEN RESULTS
ELEMIS products are kind to the planet and kind to your skin - with no parabens, phthalates, aluminium or other nasty ingredients used in their formulas. Every new formula is rigorously tested to guarantee results that you can see and feel, inside and out.
HOLISTIC, FEEL-GOOD SKIN CARE
With a foundation in aromatherapy and a holistic approach to skin care, ELEMIS products are thoughtfully created with natural fragrances and sublime textures to engage all the senses on your skin wellness journey.