It's averaging a zillion degrees and Team CB are practically dissolving at their desks. Whether you're trapped in the office or have just *slammed your laptop shut for the foreseeable* (you lucky thing), we've rounded up eight skin care have-to-haves to see you seamlessly through everything from long-haul flights to sweaty city breaks. Wishlists at the ready…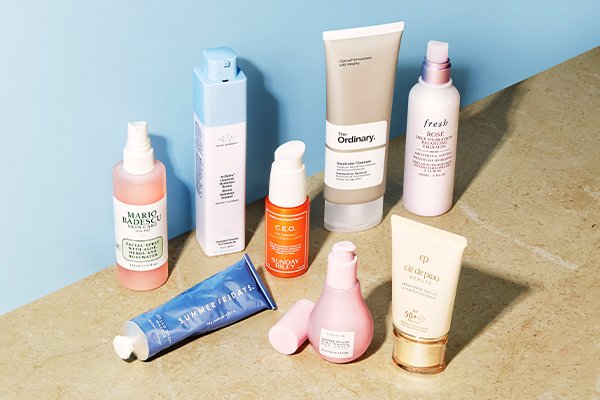 A clean slate
Perfect for keeping your complexion clear and calm when things get sweaty, The Ordinary's ultra-gentle Squalane Cleanser melts away pollution, daily dirt and excess oil without disrupting skin's defences. Creamy and comforting thanks to its soap-free, balm-to-oil texture, this affordable formula suits even sensitive skin types — cleansing while leaving your cells with a 'spring' in their steps.
Not to be mist
Mario Badescu's mists are legendary and the Facial Spray with Aloe, Herbs & Rosewater delivers a thirst-quenching drink to keep hot summer skin plump and dewy. With its petal-esque fragrance to quickly refresh and re-energise, this makes a great balancing toner as well as a brilliant foil for the tube when you're overly hot and excessively bothered (just spritz, breathe and conjure the languorous buzzing of bees). Great over make up, this offers a radiance boost and is great for reviving your post-office face — simply spray on your skin (or your brushes) and buff into creases to swiftly diffuse your foundation.
Plump up the volume
Flooding your face with water-loving hyaluronic acid, Drunk Elephant's B-Hydra Intensive Hydration Serum has a featherlight texture that sinks into skin to replenish cells' reservoirs. Silky and great for all skin types, this makes an unparalleled daily hydrator if skin's prone to oil (or you're feeling the heat), as well as a brilliant serum to visibly soften fine lines and promote luminosity thanks to its powerful, plumping prowess. With barrier-boosting ceramides to lock moisture in, this medley of free radical-fighting extracts soothes, softens and leaves your complexion protected.
Glow right this way…
Brimming with brightening vitamin C to help unify tone while promoting resilience, Sunday Riley's C.E.O. 15% Vitamin C Brightening Serum is packed with free radical-fighting antioxidants to ward against everyday damage while ramping up radiance. Perfect for those who're in need of a pick-me-up, this supercharged serum diminishes dullness and targets pigmentation to recover misplaced radiance… it's time to show dark spots who's boss!
Petal-soft skin
Offering long-lasting hydration without the skin-smothering weight of rich moisturisers, fresh's Rose Deep Hydration Balancing Emulsion stars Damask rose extract and hyaluronic acid to flood cells with much-needed water. Plumping and instantly replenishing, its barely-there texture is great for congested or oil-prone complexions, as well as hot days when you crave the hydration without any heaviness — meaning you're free to add make up (or not!) without risking it slipping as temperatures soar.
Reporting for dew-ty
A skin care-make up hybrid, Glow Recipe's multitasking Watermelon Glow Niacinamide Dew Drops leave skin looking gorgeously glazed while delivering a dose of niacinamide to control excess oil, alleviate congestion and reduce the visibility of enlarged pores. A great way to streamline your 'get ready' ritual, this relies on a buffet of skin-loving extracts to offer a natural, lit-from-within luminosity — nourishing every complexion while lending a subtle, believable lustre.
Long-haul hero
Cooling and comforting thanks to its buffet of cherishing ceramides, SUMMER FRIDAYS' Jet Lag Mask is made for more than flights (although it's great for counteracting the effects of cabin atmosphere). Minty fresh and tingly on application, slather all over your face when you're feeling depleted (or slightly sundried…), or swipe a thick layer under each eye to quickly de-puff and revive. S.O.S. for skin in crisis, this soothes signs of stress and fatigue as it plumps and diminishes the visibility of fine lines. You can even store yours in the fridge to promote it's 'Aaaaaah' properties (you'll hear your skin heave a huge sigh of relief).
Screen idol
Offering high factor, broad spectrum protection from sun and the perils of pollution, Clé de Peau Beauté's UV Protective Cream SPF 50 feels indulgently creamy yet sinks into skin to create a smooth, beautifully dewy canvas. Great on its own if you want a clean, fresh-faced effect, it also makes a perfect base for make up — gripping your base while delivering balancing, radiance-boosting and skin-conditioning ingredients for a healthy, happy complexion.