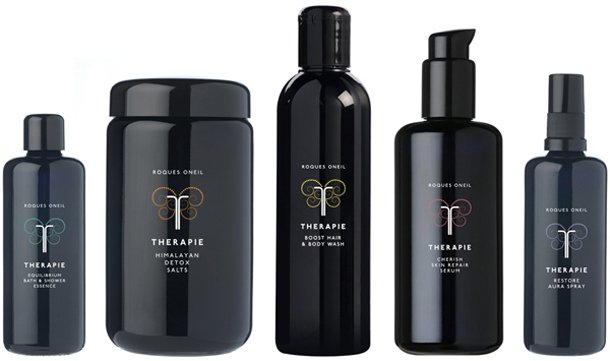 Hello Everyone, my name is Alexia and I'm a Cherish addict. No matter how many body lotions and potions I try, this one keeps drawing me back, nothing else makes me feel quite so good, know-what-I-mean… I asked Michelle Roques O'Neil to explain why:
All of Therapie's products are designed to have positive, multidimensional effects on both your physical and mental state. Cherish Body Serum not only conditions and moisturises skin – improving tone and texture – it includes powerful healing oils and extracts that protect and sooth against holiday sun damage and environmental pollution (it's also safe & incredibly effective to use against stretchmarks while pregnant).
Infused with an energetically restorative, uplifting aroma, created by plant essences that support cellular regeneration, tone and improved circulation. Geranium (healing & circulation boosting), Ylang Ylang (lifts depression & balances mood swings), Neroli (fabulously supportive both physically & emotionally), Tangerine (combats stretch marks & skin congestion) and Patchouli (skin toning & moisturising).
The A-list Ingredients
Rosehip Seed oil – source of trans-retinoic acid (a natural precursor of Vitamin A), also good for treating all kinds of skin infections and the repair of damaged skin tissue caused by scalds, burns, varicose veins and skin over-exposed to sunlight. The best vegetable oil source of omega 3 & 6, both essential fatty acids for cellular membrane and tissue regeneration.
Argan oil – Rich in the Essential Fatty Acid, Linoleic acid, which helps the body to reduce inflammation by producing prostaglandins (a group of lipids your body makes at sites of tissue damage) especially good for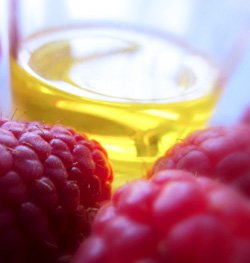 the regeneration of the sensitive skin in the upper chest and neck areas.
Red raspberry seed oil – Perfect for sensitive skin, deeply nourishing, softening, emollient, conditioning, with a lipid barrier that provides protection and moisture retention for the skin. Often used in sunscreen products due to its UV absorbing properties, it contains a sun protection factor (SPF) of 28-50, plus extremely high levels of alpha and gamma Tocopherol (vitamin E), vitamin A, approximately 30% of omega 3 and 54% of omega 6 fatty acids, so with approximately 84% content of essential fatty acids, it gives the skin a vital broad spectrum defense from harmful UVA and UVB rays.