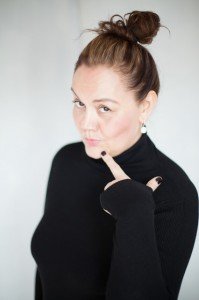 Frank, funny and unendingly knowledgeable about all things beauty, advanced facialist, brand manager and retail expert turned beauty blogger Caroline Hirons cuts through the crap nonsense that's synonymous with the skin care and cosmetic industries. Her website Carolinehirons.com is a mecca for beauty insiders – as well as the beauty confused – who rely on her honest appraisals and expert advice to steer them through the make up minefields, and avoid wasting $$s on the products found guilty of style over substance.
Caroline's online clinics are platforms via which her hordes of adoring subscribers can gain access to tailored advice and benefit from Caroline's straight-talking wisdom. She waxes lyrical about everything from how to wash your face properly ("wipes are for bums") to which serum you need on your face right NOW – all with a healthy dose of cynicism, a wicked wit and the kind of honesty that is all too often eclipsed by a mountain of BS (as Caroline herself states, she has "an excellent BS detector and eyebrow to match") – three cheers to that!
If you're yet to discover the joy of Caroline's refreshing approach to demystifying skin care pseudo-science and deciphering the beauty-marketing BS jargon, follow her everywhere and anywhere you can.
twitter and instagram @carolinehirons
Check out Caroline's Top Ten Cult Beauty skin care essentials >>

1. Sunday Riley – Juno Transformative Lipid Serum
"A really good mixture of high-tech and botanicals, this is full of good oils and gives your skin an instantaneous glow. If you're looking deathly, a bit of this under your moisturiser will make you look as if you've had a good night's sleep."

2. Sunday Riley – Ceramic Slip Cleanser
"I use this in the morning if I'm feeling grubby. The consistency is a runny clay, that cleanses and refreshes without being at all drying."
3. Caudalie – Beauty Elixir
"I use this at the toner stage of my routines in the mornings – mainly when I'm suffering from rogue breakouts or want my skin to 'perk up' – and although designed to 'smooth features, tighten pores and give the complexion a burst of radiance' I find that it literally dries up my spots. I can feel it working – in a good way – and my spots are worse when it runs out."
4. REN – Hydra-Calm Cleansing Milk
"A great alternative for someone who prefers a milk cleanser, this is ultra-gentle and non-stripping to leave the skin soft but clean."

5. MV Organic Skincare – Rose Hydrating Mist
"I use this as a toner – super-hydrating, refreshing and perfect to apply before serums etc. to seal in moisture."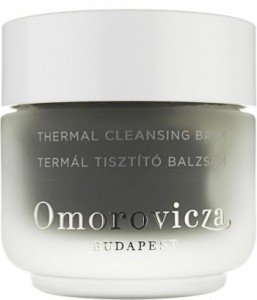 6. Omorovicza – Thermal Cleansing Balm
"I love this cleanser! I use it as a treatment cleanser when my skin is in need of help – whether because of breakouts, redness or just looking a little dull. It's a perfect morning after cleanse if you have over-indulged the night before – it feels detoxing without stripping. Perfect for a slightly older skin that needs a boost."
7. Collin – Regenerating Collagen Gel
"I use this probably once a week at the moment, after a clay mask to counteract any possible dryness and to rehydrate and smooth. I imagine I'll step it up more in the winter – it really does what it says on the box – namely plump, hydrate, tone and repair. It's something I would recommend for all skin types… L.O.V.E."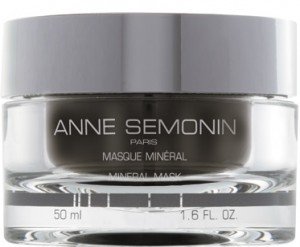 8. Anne Semonin – Mineral Mask
"Everyone needs a great clay mask. And this is a GREAT clay mask. Anne Semonin were responsible for my best ever facial results – no mean feat – and this was used during my treatment."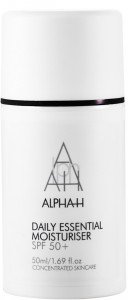 9. Alpha-H – Daily Essential Moisturiser
"This is an ideal moisturiser for pretty much any skin type. It's light yet hydrating, not at all heavy but nourishing. The perfect 'top coat' for skin after application of serums or treatments."
10. Aesop – Fabulous Face Oil
"Aesop have lots of 'staple' products – this is just one of many. Facial oils would be my number one choice if stranded on a desert island. This is beautiful, light and super nourishing."