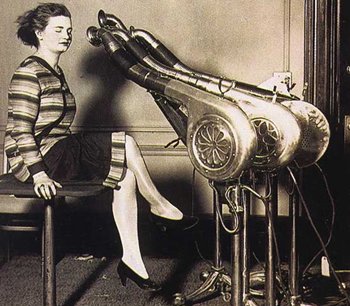 We all know that heat styling is bad for our hair, but for the grass is greener crew (ie most women with a pulse) straighter, finer, thicker, curlier is a lovely way to step outside of our genetics for the day.
Heat exposure of over 110C causes three types of hair issues: damage to the hair fibre surface making it feel rougher; weakening of the keratin that makes up hair, which makes it break off easily; and deterioration of the melanin pigment, which is why you'll find it goes lighter at the ends.
Heat protection products help by adding a barrier to direct contact with the hair fibre surface – this also usually allows whatever device to slip through your hair with less snagging, they reduce the conduction of heat and diminish heat triggered decomposition of the proteins by slowing oxidation (anti-oxidation!). Look for one of these ingredients in the first five on the list – PVP/DMAPA acrylates copolymer, Hydrolyzed wheat protein, silicone quaternium-8, Dimethicone, Quaternium 70 and anti-oxidants such as Sodium bisulfite or Vitamin C.
Davines Melu Heat Shield Protection Spray is brilliant for this, or if you want to go more the natural route Tela's Hair Healer, Leonor Greyl's Nourishing Styling Cream and their Serum De Soie protect and seal the cuticle, as well as conditioning and smoothing already damaged hair.