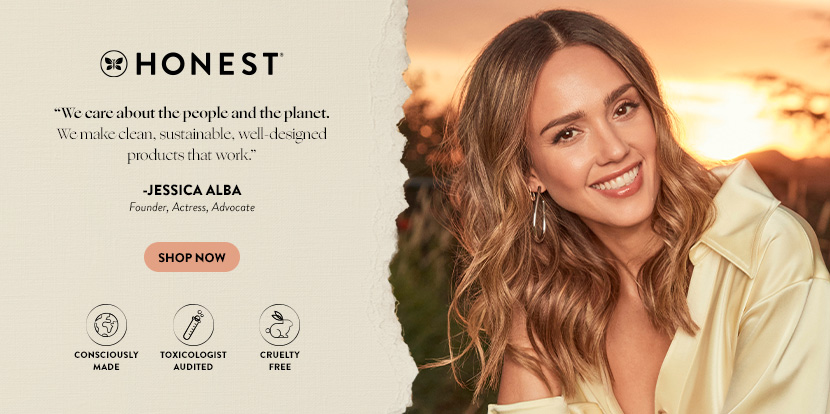 HONEST BEAUTY
Tired of having to choose between 'what works' and 'what's good for you'? Cue: Honest Beauty. Born out of the daily frustration of comprising when it comes to make up, actor-turned-brand founder Jessica Alba worked with a team of MUA's and cosmetic chemists to formulate products that do both. With an extensive list of 'no no' ingredients (3,500 and counting), you won't find any questionable chemicals in Honest's cosmetics. Everything from product formulation to packaging is carefully considered to respect our precious planet. Honest Beauty is more than brand - it's a lifestyle.

DISCOVER HONEST BEAUTY
Built on the ethos that everyone should have their own personalised self-care routine, Honesty Beauty encourages you to slow down and give your regime some much-needed TLC. Dreaming up a range of skin care and make up, the brand provides solutions for all beauty concerns. Combining a range of skin-loving ingredients, Honest cosmetics soothes, smooths and adds some shine to your everyday look.
ONLY THINGS YOU NEED AND NOTHING YOU DON'T
Honest beauty is just that – honest. So, you can be confident that its products are not only safe for your health and well-being but also aren't infused with anything that harms you. For this reason, it created its NO List™ — a list of over 3,500 chemicals/materials it chooses not to use.
CLEAN CONSCIOUS
Thoughtful about its packaging, the brand ensure that no Honest beauty products are encased in anything containing PVC or Styrene. Conscious about what it uses, everything is housed in gorgeous recyclable and re-usable packaging; think glass, aluminium, tin and recyclable plastic. Its cartons are also consciously crafted, FSC-certified and made from 100% upcycled materials. Good for you and the environment.
NO LABEL LIES

Honest Beauty is veracious about what's on its labels. The brand purposefully is open about exactly what each product contains and has a MADE WITHOUT list on its packaging, specifying exactly what isn't included.