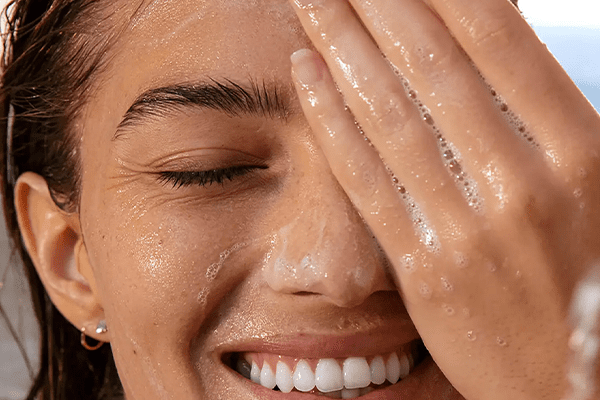 Adding acids into your skin care routine can often be intimidating. But when it comes to BHAs it needn't be so scary. Gentle yet effective, they're bursting with some seriously soothing properties and make the ideal complexion companion for easily triggered skin.  
With that in mind, here at Cult Beauty we're shining the spotlight on all things BHAs – from what BHAs are to what they do for your skin and more – so you can face your fears and unveil radiant results.
WHAT ARE BHAS
Also known as beta hydroxy acids, BHAs are a category of (you guessed it) hydroxy acids that help promote the skin's natural exfoliating process. While they're naturally occurring in many plant-based sources, they're typically created in labs when being used for cosmetic purposes. Renowned for banishing blemishes and soothing sun damage, BHAs are oil-soluble – meaning they're easily absorbed through sebum to unclog visible pores and can be incorporated in most of your daily routine – we're talking everything from your cleansers and toners to masks and moisturisers.  
TYPES OF BHAS
While there is a handful of acids that fall under the BHA family (including tropic and trethocanic acids), when it comes to your skin care, salicylic acid is by far the most widely renowned BHA – closely followed by citric acid. Keep scrolling to discover how to differentiate the two…  
SALICYLIC ACID
The most common BHA, salicylic acid's concentration ranges between 0.5 and 5 percent. Naturally derived from the bark of white willow and wintergreen leaves, it's commonly used for its mild yet effective exfoliating benefits. Promoting natural shedding, the component looks to target dry and uneven skin while unclogging pores to prevent future breakouts.  
CITRUS ACID 
Before you say it… Yes, we know citric acids are predominantly classified as an AHAs. But some formulas are BHAs too. Rather than balancing out your skin's pH levels, this specific form dries out excess sebum and diminishes dead skin cells from your pores.
WHAT DO BHAS DO FOR YOUR SKIN 
Beta hydroxy acids are hardworking and multitasking ingredients that offer ample of benefits. Don't believe us? Take a look at just some of the things BHAs can do for your skin care concerns. 
Reduce the look of pores: unlike other ingredients, BHAs target the skin's shine and therefore are designed to deeply exfoliate the lining of pores to visibly unclog and shrink them. 
Banish imperfections: the not-so-secret secret to visibly banishing blemishes? Salicylic acid. Renowned for its ability to remove dead skin, this essential ingredient targets clogged pores, which in turn keeps the breakouts at bay.  
Remove excess oil: often described as 'lipophilic' (AKA oil-loving), BHAs act as agents that balance the appearance of sebum. Drawing out excess oil, the unwanted emollient is then washed away when cleansing your complexion. 
Brighten pigmentation: leave on BHA exfoliants work hard on the upper layers of the skin, encouraging dead skin cells to shed and reveal the healthier-looking and more radiant layers underneath
– not only does this uncover a dewy complexion but it also evens out skin tone too. 
Visibly smooth fine lines: adding to its long list of benefits, BHAs also feature hydrating properties. They help minimise the appearance of fine lines by improving the firmness of your complexion's texture and tone.  
BEST BHA PRODCUTS