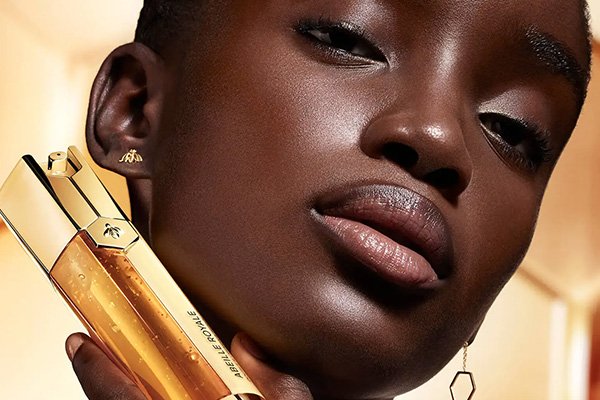 Whether you're new to Guerlain or the Parisian powerhouse's number one fan, we have a sneaky suspicion that you'll have heard about at least one of its covetable cosmetic creations – does the Parure Gold collection ring a bell? We thought so.  
Fusing the old with the new, Guerlain is renowned worldwide for its innovative formulas and one-of-a-kind designs. With that in mind, here at Cult Beauty we're celebrating the brand in all its glory with a round-up of everything you need to know about the magnificent maison – from the best Guerlain products to what Guerlain is known for and more.  
So, without further ado, it's time to get up close and personal with your newest beauty obsession…   
WHAT IS GUERLAIN KNOWN FOR
A Parisian alchemist on a quest to pursue the wonders of beauty, Guerlain has been pioneering fragrances, skin care, make up and hair care since 1828. Inspired by mythical creations with timeless savoir-faire, the brand celebrates nature and art by cultivating craftmanship through its covetable collaborations – we're talking everything from the artisans who dreamt up the Météorites marvel to the Dames de Table who decorate its iconic bottles. Blurring the lines between tradition and innovation, Guerlain has dreamt up over 1,100 olfactory offerings and sells at least one of its signature Terracotta powders every 30 seconds… Now that's what we call a beauty icon!  
THE STORY BEHIND GUERLAIN
Guerlain's story began when perfumer, chemist, inventor and researcher, Pierre-François-Pascal Guerlain founded the brand's first boutique in 1828. Located in the heart of Paris (42, rue de Rivoli, to be exact), the emporium instantly became a go-to destination for dandies across the continent. However, the maison's reputation peaked in 1853, when the founder gifted his Eau de Cologne Impériale to Empress Eugénie to wear when marrying Napoleon III. Fast-forward to today, and Guerlain continues to be a family-run business that has seen five generations at the helm of the house.  

THE BEST GUERLAIN PRODUCTS 
Where do we begin? Trying to pick out the best Guerlain products is like looking for a needle in a haystack – pretty much impossible! With so many iconic creations to choose from, we've rounded up the very best of each category from skin and hair care to make up and fragrances…  
THE BEST GUERLAIN FRAGRANCES