Summer in the city has its perks, but the evening commute isn't one of them! If your head's wedged in somebody's armpit, a quick spritz (or discrete 'roll') of one of these handbag-compatible scents will help counteract whiffs and make your tube, bus or train journey not only much more bearable, but actually, rather lovely! What's more, these chic miniature vials are ideal for the summer – they're perfectly portable, hand luggage-friendly and great for beautifying your beachside #flatlay.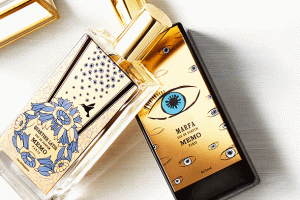 Encapsulating mysterious and evocative scents inspired by far-flung landscapes, MEMO PARIS fragrances are just the thing to set your wanderlust aflame. Never visited the vast deserts of Texas? Well, now you don't have to. Marfa captures the state's dry, languorous scenes with an intriguing combination of heady, sweet and woody notes (like musky tuberose and floral ylang ylang) that lingers deliciously on skin.
Perfect for freshening up that stale in-flight cabin air, the Jo Loves A Fragrance Paintbrush in 'Pomelo' is just as easy to throw in your 100ml 'liquids bag' as it is to apply. Dispersing notes of grapefruit-infused citrus, warming vetiver and suede, simply brush this gel formula along your neck, wrists, ankles and voilà! Now you can walk the aisle and have heads turning in every direction.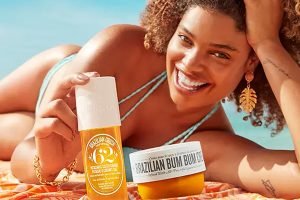 Another case for catching attention is the Sol de Janeiro Cheirosa 62 Mist. If you're familiar with the brand's signature scent from the cult-classic Bum Bum Cream, then you'll love this perfume mist. You know that summer smell that's hard to pin down? It's heady and warm, vibrant and fresh… well, this is exactly that. With every mist you'll catch a whiff of pistachio, almond and jasmine petals.  
Need to keep your strands in check without lugging around heavy creams and oils? Simply spritz the travel-friendly Gisou Honey Infused Hair Perfume through your tresses to become the mane event. Infused with Mirsalehi Honey, this concoction beautifully scents your hair with a delicate floral scent and infuses it with strengthening, shine-inducing antioxidants and amino acids.  
And if you feel like spritzing or misting is too high maintenance on holiday then MALIN + GOETZ's Dark Rum Perfume Oil was made for you. Packing a powerful aroma into a convenient rollerball, just a quick pass of the ball bursts with a cocktail of bergamot, plum, anise, leather, vanilla (and more!) in uplifting swirls that last all day. Economical and convenient, we couldn't think of a better travel companion. 
So, whether it's a staycation or a round-the-world trip, you never have to forego smelling sublime…