From mermaidcore to maxiskirts and sheer, well, everything, this summer's fashion trends have had us doing more than a few wardrobe overhauls. And the same can certainly be said for our beauty wardrobe, too. 
While lashings of coral blush and barely-there bleached brows were the signature look of summer 2022, this year we're all about dewy, highlight-adorned skin, no-make up make up and, of course, latte eyes. See: Sofia Richie, Hailey Bieber, Maya Jama. Need we go on? 
Unfortunately, unlike Sofia and co., not all of us have an entourage of hair and make up artists on speed dial, so it's up to us to achieve that just-got-back-from-the-Amalfi-Coast glow at home. Luckily, with new and exclusives from some of our favourite brands, achieving that dewy, summer aesthetic just got a whole lot easier. On that note, these are our go-to names to help you serve effortless, summer style — without breaking a sweat…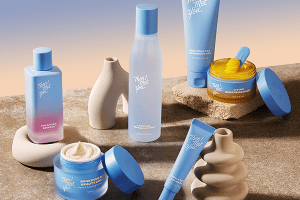 Abiding by an attitude of thoughtfulness that transcends self care, and inspired by the Korean concept of 'jeong' (a deep feeling of empathy and affection that one can develop for people, places and things), Then I Met You is set to change the way you nurture your skin. 
With bestsellers including the Living Cleansing Balm (designed to effortlessly melt away make up, sunscreen and excess sebum while feeding your skin with antioxidants and fatty acids), the Birch Milk Refining Toner (which harnesses a cocktail of exfoliating and moisturising extracts to reveal a brighter complexion) and The Giving Essence (which quenches skin with a brightening blend of antioxidants, niacinamide, polyglutamic acid and more), Then I Met You is about to become your glow-to.