Over the last 18 months there has been a huge surge in searches for soul-soothing wellness products as we look to bring a bit more balance and calm to our previously hectic routines during the ongoing pandemic. From January 2020 to September 2021, Google search data shows the number of people searching for items such as sauna blankets, Gua Sha and Massage Guns have skyrocketed (see the table below if you don't believe us!).  But what exactly are they and how can they help to improve wellbeing?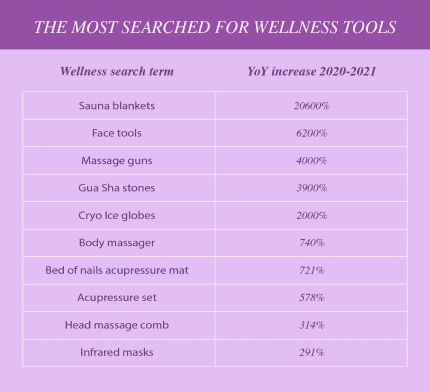 Wondering if they're worth the investment? Take a look at Team Cult Beauty's edit of the top five wellbeing tools your routine is calling out for and just and how to use them.
Bed of Nails
The bed of nails has been used by Indian mystics for centuries in the practice of healing and meditation and now it's been re-invented with a Scandinavian twist to give you a whole range of benefits, from soothing sleeplessness and easing stress to helping you re-balance after a long haul flight, alleviating aches and pains and even reducing the appearance of cellulite (the spikes help the body rid itself of toxins and increase blood flow, to assist the breakdown of stubborn fat groupings). It's also brilliant for easing neck and back pain, and can even have a positive impact on your complexion!
How to use:
Lay the Bed of Nails on the floor or on a mattress and slowly lower yourself onto it. Beginners should wear a light T-shirt or lay a sheet over the mat until your body and skin get used to the spikes. Initially lie on the Bed of Nails for 10 – 15 mins, and as you get used to the pressure you can build up to 20 – 30 mins.
Use as often as you need – preferably daily. Don't be alarmed if your skin stings a bit or feels warm and tingly, and it's perfectly safe to fall asleep for a while on the mat.
Leaning against it (rather than laying on top of the mat and pillow) is a lighter way to use Bed of Nails while you acclimatise (you put less weight on the spikes when you do). Place the mat/pillow at the back of your sofa, bed or armchair to experience the benefits while building up your tolerance.
Sauna blankets
There's nothing like a session in a sauna to have you feeling simultaneously relaxed and rejuvenated. That universal truth was the springboard for HigherDOSE's ingenious invention, the Infrared Sauna Blanket V3: a comfortable self-heating blanket, crafted with a medical-grade magnetic strip and layers of amethyst, tourmaline and charcoal, that increases your heart rate and prompts a detoxifying sweat. Designed in part by the founder of Clearlight Saunas, Dr. Raleigh Duncan, this quick-heating blanket (it only takes 10 minutes and you can adjust the temperature as you go with the easy-access controller) is designed to comfort sore muscles, make you feel calmer and elicit a healthy radiance: think that post-run glow that no highlighter seems to rival.
How to use:
Lay the blanket down on a heatproof surface a bed works well). Lie down and get into the blanket.
Spend up to 45 minutes in the blanket relaxing; let the soothing infrared rays, amethyst, tourmaline, and magnetic therapy do the work.
Feel refreshed, rejuvenated, balanced, and ready to take on the world.
What's included?
Your Blanket, instructions, controller, power supply cord, and connecting cords are all included in the box.
Theragun Mini
The Theragun is a handheld device that hernesses percussive massage therapy (basically pummelling muscles to massage the tissue without a masseuse) to speed recovery and help to ease persistent pain, Mini Theregun is tiny but mighty maintaining the power and efficacy of its souped-up Theragun cousins, with streamlined features great for adventurers, gym-goers or those who are new to the wellness phenomenon. Surprisingly quiet (but unsurprisingly effective), this ergonomic device has a choice of three speeds to diminish discomfort and boost circulation while tackling cramps, knots and muscular twinges with near-silent QuietForce Technology!
How to use:
To turn on the Theragun mini, firmly press and hold for two seconds the multi-functional power/speed button on the right side of the device.
Float the device across areas in need of treatment, gradually applying light to moderate pressure as needed.
Press the power/speed button again to toggle between three speeds.
To turn off the Theragun mini, firmly press and hold the power/speed button until the device shuts off.
Connecting Attachments to the mini:
Align the attachment with the tip of the rotating arm and push to connect.
To remove, grip the attachment, placing one finger on each side of the plastic connector. Pull off the attachment.
Your Theragun mini comes with a Standard Ball attachment designed for overall u

Gua sha
Generally associated with traditional Chinese medicine, 'Gua Sha stone' therapy (sometimes called 'scraping' therapy) has been used for thousands of years – and the ancient Greeks and Egyptians favoured rose quartz stone to help them retain their youth and beauty. Hand-crafted from natural crystals, this exquisite tool hugs the curves of your face and neck to increase blood circulation, refining and smoothing your skin, as well as stimulating a variety of acupressure points.
How to use:
Use with gentle stroking actions on the face and neck, taking care around the eyes. Please consult full usage instructions included.
Ice Globes
Utilising the powers of cryotherapy – which uses cold temperatures to reduce blood flow and inflammation before eventually encouraging greater circulation (and thus, a radiant, flushed complexion) – these stunning, cryo globe use nature's secret weapon: ice. Spherical and filled with anti-freeze liquid, they're sat upon elegant glass stems – never dripping – staying cold for much longer than the average ice cube. Improving blood circulation to brighten and tighten your complexion (applying cold to your skin causes your blood vessels to constrict), using a cryo globe can even diminish dark circles, soothe persistent acne, tend to sunburn, heal scars, bestow glow and reduce puffiness – oh, and nothing preps the complexion for make up quite like an Ice Globe fresh from the freezer…
How to use:
Keep your Ice Globes in the freezer for at least 20 minutes.
Take Ice Globes and massage your face for 10-15 minutes.
Can be used alone or with your favourite skin care.
So, are you ready to step into a new sense of wellbeing? Check out our latest products and shop now