Want to find fellow beauty obsessives and feel part of a community? Well, let us introduce you to the all-new Cult Beauty Chat Room, a community passionate about all things beauty.
From sharing the game-changing product that saved your skin to discovering a new make up must-have or hair care hero, this is the ultimate hub to connect with fellow beauty obsessives across the world. The only requirement? A beauty product obsession.
Monitored by our very own Cult Concierge Team who will provide exclusive, insider access to the world of Cult Beauty (think: the lowdown on our latest launches and a heads up on our biggest beauty news…) and be on hand to help you discover your next Holy Grail product.
Want to join? All you have to do share a few beauty-themed answers to gain entry so why not invite your beauty-obsessed BFF whilst you're at it too?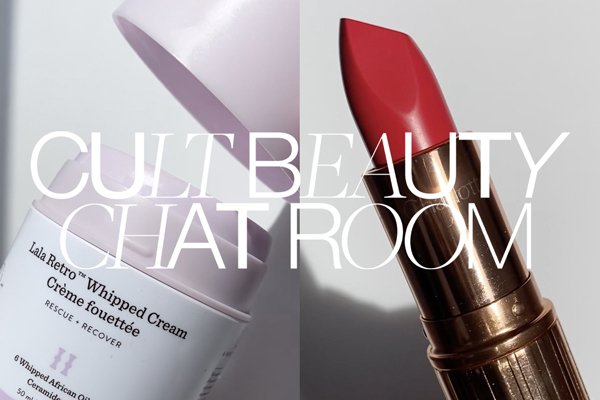 Psst! We want The Cult Beauty Chat Room to be a fair and safe space for all so here are the group's rules…
1. Be kind and courteous #CultCommunity
This is a safe space for everyone to express themselves, share their beauty knowledge and latest product discoveries, so please be kind and respectful to all of your fellow beauty obsessives.
2. No spam please! 
Posts asking for advice and sharing product recommendations are welcomed, however self-promotion, offering to sell or swap products, spam, affiliate and referral links will be removed.
3. No customer service enquires
We're here to talk about our shared loved of beauty products, therefore we kindly ask for any customer service-related queries to be directed to our Customer Service Team over at customerservice@cultbeauty.co.uk. They'll be happy to help!
3. Respect everyone's privacy 
We all have a duty to preserve our own privacy and respect those of others, so refrain from sharing personal information eg. email addresses, home addresses or social media handles.
4. Just a little reminder…
We will reiterate the group rules on a regular basis to keep them fresh in everyone's memory. However, this is a safe space for beauty obsessives to enjoy and persistent misuse may result in removal from the group.
5. Last but not least…
Any prejudice or discrimination from any member will be taken very seriously and result in removal from the group. This includes threatening comments, offensive language, hate speech, homophobia, transphobia, sexism, racism, ageism and ableism.