With brighter times on the horizon, prepare to reawaken your identity with Cult Beauty's latest campaign: show off, the new beauty mood.
The heady mix of summer sunshine, days outdoors and actual, IRL dates with your mates is the perfect excuse to embrace the uplifting, transformative power of make up; to raid your beauty wardrobe and to reaffirm your sense of self. Which needn't mean reaching for luminous shadow or colour-pop lipstick – it could be as simple as re-learning how to apply your winged liner (it's been a while) – but making an effort will instantly dial up the joy and inspire renewed joie de vivre. So, whether you're ready to daub with abandon or simply can't wait for a reason to rock your mascara, we're here with ideas – and the goods – to excite and empower. Let's just… start the decade over, shall we?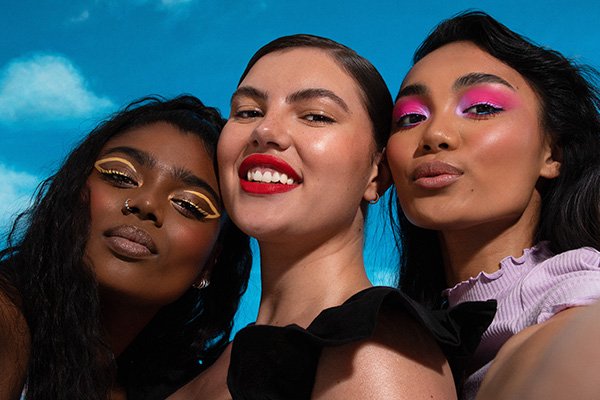 Not sure where to start? We've teamed up with four acclaimed make up artists (think: Jamie Genevieve, Danessa Myricks, Patrick Ta and Natasha Denona) to create inspiring make up masterclasses for our community. Sign up now to be one of the first to get these strictly limited tickets…
Session 1: Weds 7th July at 7pm BST
Show Off: The Jamie Genevieve Make Up Masterclass
YouTube phenomenon-turned-founder of VIEVE, tune in as Jamie Genevieve bares her summer beauty tips and tricks.
Weds 14th July at 7pm BST
Show Off: The Patrick Ta Make Up Masterclass
A favourite of Gigi, Bella and Kendall, Patrick Ta is an esteemed make up artist who specialises in sultry shadows and glossy sheens.
Weds 21st July at 6pm BST
Show Off: The Natasha Denona Make Up Masterclass
Second to none when it comes to eyeshadow artistry, award-winning make up artist Natasha Denona shares her go-to techniques.
Session 4: Weds 28th July at 7pm BST
Show Off: The Danessa Myricks Make Up Masterclass
A self-taught make up artist who forged an iconic career, Danessa Myricks is synonymous with unique editorials and flawless bases.
If you're keen to attend, tickets cost £5, this includes a a link to the Zoom masterclass, a private recording after the event and to say thank you for joining, a voucher for £5 towards your next Cult Beauty haul*.
BUY TICKETS >>
*Terms & Conditions apply. See site for full details.