Hyper-model Karlie Kloss goes beyond simply 'super' – at only 21 (woe is us), she's already reached the height I'm still aspiring to (I'll catch up eventually), and her inside leg measurement is longer than the average adolescent human.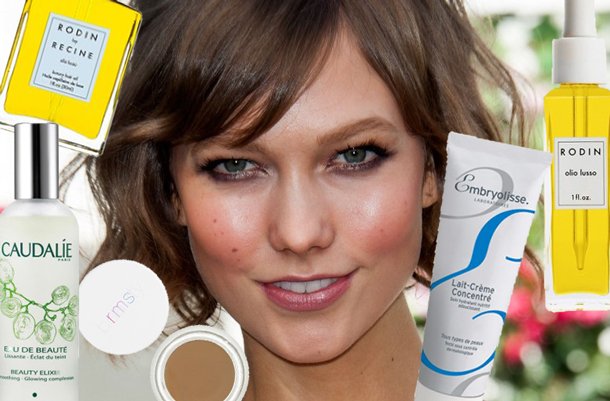 She's bridged the chasm that usually separates high fashion waifs and Victoria's Secret babes (probably because her limbs are so extensive), managing to be both male fantasy and Miuccia muse. In fact, the fashion world is at her feet – and like anyone professionally good-looking, Karlie invests great time and effort into keeping her face looking flawless (with a little help from these Cult Beauty must-haves).
Her luminous skin is the product of natural oils. 'I love all oils, coconut… olive… I like taking a basic cream, like Embryolisse, and mixing in a drop of Rodin Oil' (Clever Karlie… so much more than just a pretty face!).
Karlie's choppy bob has been endlessly emulated, but not because she makes an effort (who needs hair when you've got those cheekbones?). 'My hair grows really slowly, so I'm not trying to do anything intentional to it, but it's taking forever to grow out. Right now, I'm liking Rodin Recine Hair Oil, which gives it shine but doesn't make it droop'.
'I have really red, bright lips and I like to mute their colour sometimes… RMS Un Cover-Up in 22 has a hint of green in it, which cuts the red down but not in a drastic way that makes it look crazy, like I have no lips.' We know how you feel Karlie. We have really rosy red lips too and it is HELL. #supermodelproblems
And because we're supermodel cyber stalkers (ie: follow @karliekloss on Instagram), we couldn't help but notice that she craves a bit of Caudalie – we zoomed in on the brand's best-selling Beauty Elixir when 'The Klosster' 'grammed her French pharmacy fail-safes.