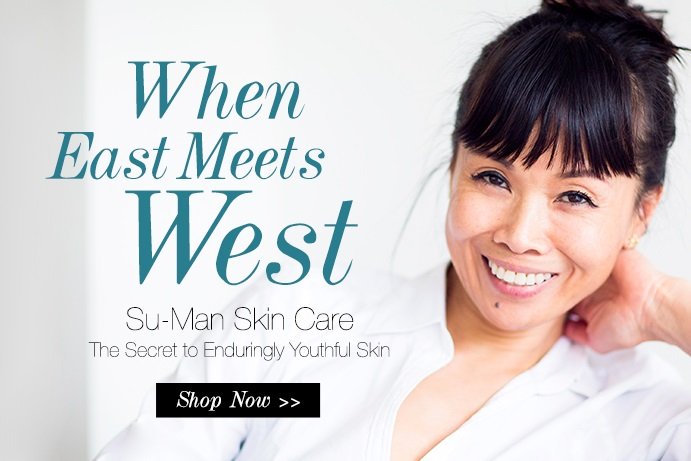 World renowned celebrity facialist Su-Man Hsu has transformed the faces of Hollywood's finest – from Anne Hathaway to enduringly beautiful Juliette Binoche – with her signature blend of Eastern tradition and Western innovation (with a little bit of dancer's discipline – for good measure). We had a chat with Su-Man about the inspiration behind her new skincare line, and on meeting her we couldn't believe this elfin creature is 52! She is the best advert any skin care could have…
CB: As a dancer, how do you incorporate your dance training into your skincare philosophy?
SMH: Dance is instinctive but requires precision, performance and a commitment to excellence. Clients have described my fingers as dancers, in my facial, I use my core and body weight in a very balanced way so I can transfer energy without force.
I applied the same ideas from dance into my skincare range, core strength and effortless power. The core ingredients of my product range are Dragon's Blood and Rosehip Oil. The concept of effortless power is very much an Asian way of doing things, you get a lot out of something with less force. All of my products are designed to work beautifully with the skin, complimenting my massage techniques.
CB: What was it about Pina Bausch's work which inspired you to travel to work with her dance company, and how did you first become aware of her? (Pina was a leading influence in the world of modern dance, and vanguard of the 'Tanztheater' approach to movement composition).
SMH: I was 24 when I first saw Pina Bausch in a video shown by my teacher, to raise our awareness and understanding of different choreographers and their approach to movement. I immediately connected with Pina's way of expressing herself – it was so deeply personal, profound and unique. It spoke straight to my heart.
I saved up all my money and travelled to Germany to go to her school, but before she offered me a job in her company I had signed a contract with another well known troupe in Brussels. Perhaps I was meant to do what I am doing now (making people beautiful!!), because if I had stayed with Pina Bausch I would doubtless still be dancing well into old age.
CB: You mention that you are mixing both Eastern and Western elements in your skincare. What would you say are the three strongest Eastern skincare ingredients or technologies that you have used and why?
SMH: The three essential Eastern skincare elements I've put into my range are;
Prevention – It's the Asian 'way' to try and prevent things from happening, rather than attempting to correct them once they've already gone wrong (a far more 'Western' practice). That's why my products contain powerful antioxidants such as Rosehip Oil, Dragons Blood, Sunflower Oil and Apricot Kernel Oil – all of which play a big part in delaying the deterioration of skin quality.
Layering – Each product enhances the properties of the one before, to increase the overall benefit in an integrated, skin-friendly system. This means I had to design each one with a light texture that is easy to massage into the face and readily absorbed, so the skin is ready to accept the next layer. Small, light and nutritious meals are better than one heavy one, and the same premise applies to skin care.
Skin Brightening – Asians tend to prefer whiter, porcelain type complexions that have a matte texture while Westerners prefer plumper, dewy skins – the main reason being that Asian skin is thicker than Caucasian skin. I've included ingredients such as Tranexamic Acid (Velvet Skin Brightening Serum) and Camu Camu (Exfoliating Facial Polish) – both renowned for their brightening properties. Rice Silk (Velvet Skin Moisturising Cream) then helps to counteract shine, while high performing hydrating ingredients such as Hyaluronic Acid, help to satisfy the needs of Western skin. The truth is all skins need brightening, as well as a balance of 'glow' and matte effects.
CB: What is 'Dragon's Blood' and why is it such an important component of Su-Man's products?
SMH: Dragon's blood is a bright red resin extracted from the Croton Lechleri tree, native to the Amazon rainforest. The sticky sap has powerful protective, regenerative and anti-ageing properties, and has been used by indigenous peoples as a healing skin treatment for centuries. Forming a 'second skin' barrier, it helps to repair and reconstruct collagen, reverses environmental damage and restores firmness and elasticity to the skin.
The importance of healthy skin is not just aesthetic; it is also a shield against environment stresses such as sun, pollution and wind, and therefore it requires reinforcing. Dragon's blood helps strengthen this natural barrier and its' powerful antioxidant properties help protect from free radical attack.
PLUS !!! For a limited time only, receive a FREE Rehydrating Toning Essence (worth £37) with the purchase of any 2 Su-Man Skincare products.