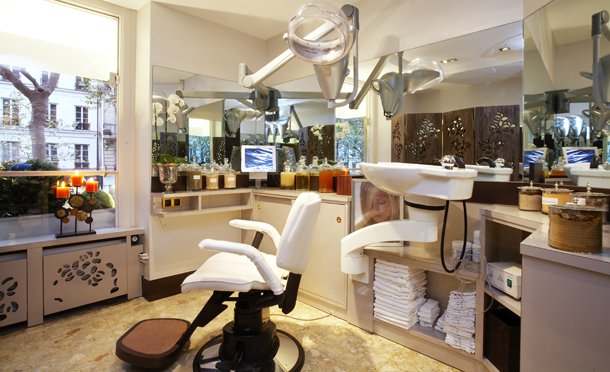 You're in Paris, it is 37 degrees outside, you've had your fill of fine french food…what to do?
I opted for a visit to the beautifully positioned and exquisitely understated Leonor Greyl Institute. A haven just moments from the busiest corner of Paris, and a mecca for chic Parisian women (yes it was obvious that I was the only Londoner in the salon).
A very friendly, wonderfully coiffed, elderly lady attempted to speak to me, but quickly established that I understood very little. It later transpired this was Leonor herself, who attends the salon every morning for a wash and blow dry. I was caped, and led into a little treatment room. Sylvie, the hair specialist asked if I was scared..not the most auspicious start. I was actually very excited to have my scalp and hair closely attended to.
What came next was an hour of pure bliss: Firstly my hair and scalp were examined with a micro-viewer. Then the brilliant Leonor Greyl Palm Oil was massaged into my scalp and hair for deep hydration and circulation stimulation. Whilst the oil penetrated I had a neck and shoulder massage.