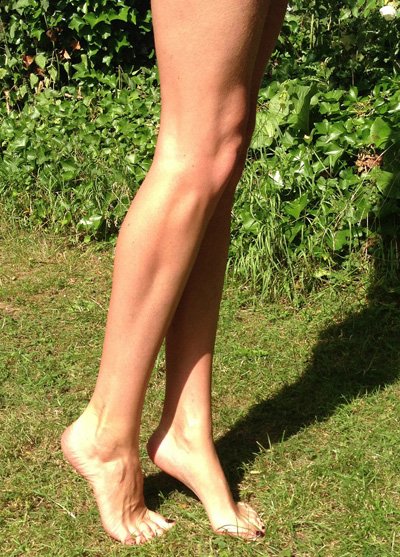 What do you do when you need a quick fix tan and skin enhancer, but time is money?
Body Bling yourself. This body enhancing, bronzer by Scott Barnes is my go-to for instantly beautiful skin and has been in constant use since the weather perked up and the summer dresses were pulled out.
It has such a fantastic effect, leaving you bronzed but streak free. In fact I like it so much I was inspired to walk into my sister's room last night and said, "THIS, this is my perfect skin colour!" As long as you take care to properly rub it in around your ankles, knees and other knobbly bits, the colour is fantastic, with a subtle golden illumination that makes your body glow like L-Lo (see pic right).
I use it on my legs and arms as a finishing touch to my "look" before going to any fashion event. The colour is instant, there is NO SMELL, you look sunkissed and it washes off in the shower the next day with absolute minimum residue on your sheets/clothes. A smidgen has ended up on a seam here and there, but it has always washed out spotlessly. olivia inge