This competition has now closed. Thank you to all those who entered and congratulations to our lucky winner, Jessica Newman!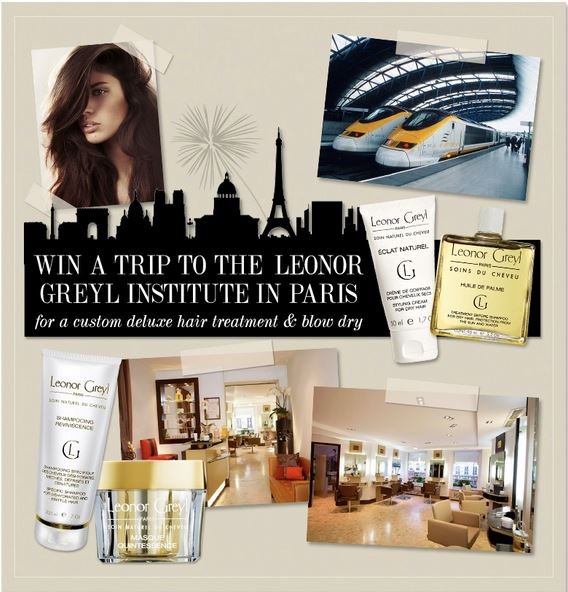 In 1968, aesthetician Leonor Greyl, with her husband-to-be Jean-Marie Greyl developed an idea – that healthy, natural products lead to healthy, beautiful hair. At the time, 'natural' was not yet the buzzword it is now, and hair care was largely a chemical industry, with women subjecting their tresses to harsh, dehydrating styling treatments and products that ultimately did more harm than good.
From humble beginnings – they owned just a single salon in Paris – Leonor Greyl is now the brand specialist in hair treatments that use only the highest quality, environmentally safe, natural ingredients (honey, magnolia oil, palm oil, bamboo and heavenly scented botanical extracts) to rehabilitate hair and restore stressed tresses to their beautiful, lustrous best.
We're therefore delighted to offer one lucky winner the opportunity to visit Leonor Greyl's Parisian Institute, where they'll be treated to a hair diagnosis, a customised treatment and a blow dry, as well as a goody bag chock full of Leonor Greyl products to take home on the Eurostar (tickets for which are included with the prize).
To enter, just click the following link (http://bit.ly/13jmqtO) and sign up to our newsletter. Simples!
WHAT YOU'LL WIN >>
1. 1 return ticket to Paris via Eurostar
2. A Custom 'Deep Acting Hair Spa Treatment' in which your hair is examined with a micro-camera, before a bespoke hair spa treatment is prepared in front of you and applied with a paintbrush, to penetrate and regenerate the hair. You'll relax under a steam hood for around ten minutes, then the treatment will be slowly emulsified and rinsed, before a leave-in treatment is applied to prolong the benefits. A scalp suction tool is used to increase micro-circulation and stimulate healthy hair growth, and to finish, your hair is styled so you leave the salon looking your Rapunzel-esque best.*

3. A selection of Leonor Greyl's 'cult' products (worth £170) including…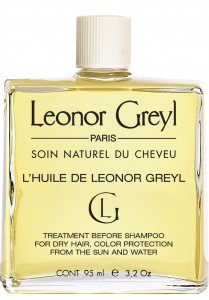 << L'HUILE de LEONOR GREYL
Hair is fragile and just like a silk blouse or cashmere sweater, needs consideration and gentle treatment to prolong its life and vitality. Leonor Greyl's L'Huile de Leonor Greyl helps prepare hair for washing; nurturing and hydrating, to preserve hair health and longevity by reducing the risk of breakage. It also makes a wonderful anti-humidity styling oil – just massage a couple of drops (a very little goes a long way) between palms and smooth through the ends of damp, or dry hair – to keep lengths hydrated and minimise flyaways. And if that wasn't enough… this triples as a brilliant holiday defence against the ravages wrought by sun, sea and chlorinated water, repairing and fortifying hair from the inside out.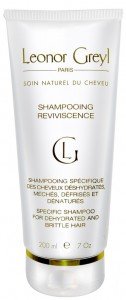 SHAMPOOING REVIVISCENCE >>
A deeply reparative shampoo for dehydrated, coloured, damaged and brittle hair types, Shampooing Reviviscence is rehabilitation for hair in crisis. Using only the finest natural ingredients, this intensive hair cleanser breathes new life into stressed, fragile tresses; Amaranth extracts, rich in sugars and vitamins B and C combine to moisturise and condition, while Sea Lavender – packed with amino acids – hydrates and minimises static. A powerful nutritive combination, this blend of ingredients repairs hair's lipid barrier which in turn, restores the integrity of its' surface – ideal for those with a penchant for blow dries and straighteners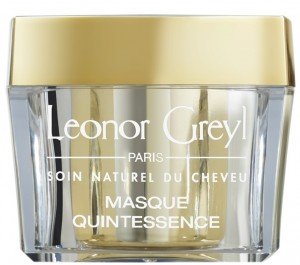 << MASQUE QUINTESSENCE
Bringing instant relief to seriously stressed tresses, Leonor Greyl's Masque Quintessence has an incredibly balancing formula that revitalises and repairs the most compromised hair. Harnessing the combined regenerative potency of Cupuacu and Maketti oils – both renowned for their moisturising and anti-oxidant properties – this acts like a hair ambulance, rushing to the rescue of parched locks and strands weakened by heat or chemical styling.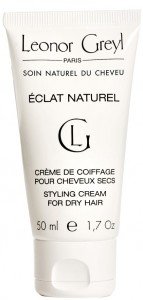 ECLAT NATUREL >>
An ideal holiday or hot weather companion, Eclat Naturel nourishes even the driest hair types, whilst detangling, separating and sculpting locks – without any silicones to compromise hair's natural beauty. Just apply to damp hair and comb through to reduce frizz and flyaways, or scrunch through curls for instant definition and shine. With forty years at the forefront of hair care innovation, Leonor Greyl's multi-award winning range provides instant and long-lasting results – to grant you gorgeously glossy and lustrous locks without any silicones, parabens, coal tar or Sodium Lauryl Sulphate
Terms & Conditions
By entering the free prize draw (the 'Prize Draw') you agree to these terms and conditions. By entering, you agree that your email address will be used to keep you informed about Cult beauty news, products and promotions. you will be entered into Cult Beauty's free prize draw with the chance t win a trip to Paris, to have a Leonor Greyl Hair Spa Treatment in their Paris Institute (microcamera diagnostic, customised treatment and blow dry worth £250), one return Eurostar ticket (worth up to £300) plus Leonor Greyl products (worth £170 including L'Huile de Leonor Greyl, Shampooing Reviviscence, Masque Quintessence and Eclat Naturel). Customers may only sign up once. Once winner will be drawn at random by an independent person. The winner will be notified in writing no later than one week after the prize draw has closed on 3rd August 2013. The winner will need to set up an appointment from September 2013 excluding Sunday and Monday, for the Leonor Greyl appointment and travel. Once date is confirmed, it will not be possible to reschedule. A confirmation letter will be sent to the winner once the date is agreed with Leonor Greyl. Accommodation is not included in the prize. The prize is non-transferable, non-refundable and non-negotiable. There is no cash alternative. Cult Beauty reserves the right to (i) cancel 'Prize Draw'. (ii) refuse any individual's entry and (iii) amend the terms and conditions. Promoter: Cult Beauty Limited. Registered office: 38-39, St. John's Lane, London, EC1M 4BJ.