Here's a little insight into what I've been buying – aside from my new floral bed linen, with which I'm exceptionally pleased. 'Tis pretty, no?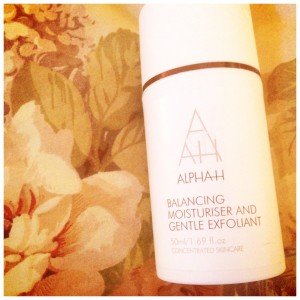 1. BALANCING MOISTURISER & GENTLE EXFOLIANT
This is my ultimate 'go to' daily moisturiser (I think I'm now on my fifth tube of the stuff) – it's lightweight, quickly absorbed and sufficiently 'tingly' upon application for me to know that it's working some magic. Glycolic Acid gently exfoliates dead surface skin cells, brightening the appearance of post-spot redness and taking the anger out of breakouts, while Vitamin E and Hyaluronic Acid combine to soothe and hydrate, so my face feels velvety soft and nourished without any greasiness. It provides a perfect, semi-matte base for my tinted moisturiser (I use Jouer Cosmetic's Luminizing Moisture Tint with SPF 20, to counter the sun-vulnerability caused by Glycolic acid), and finish with a light dusting of Peter Thomas Roth's Instant Mineral SPF 45.
TIP >> If you're applying this in the morning, it's really important to wear an SPF on top. AHAs (such as Glycolic Acid) effectively dissolve the oldest (dullest) uppermost layer of skin – the Stratum Corneum – which leaves skin looking younger and more luminous, but unfortunately means it's more susceptible to sun damage.
Exfoliation again (I'm obsessed) however, Alpha-H's Gentle Daily Exfoliant is exactly as its name implies. Super gentle (no physical grains which have a tendency to ruffle my skin's feathers), this powder forms a paste when mixed with water, that effectively 'eats' dead skin (sounds gross but isn't). Like in those old-school biology videos, where enzymes look like pac men that gobble up the bad guys, this consists of Pineapple and Papaya enzymes to refine skin texture, banish blemish-causing bacteria, minimise scarring and purge pores of congestion. It's perfect for travel because it won't leak and you can take it in hand luggage, and is brilliant for keeping skin clean, clear and cashmere soft.
TIP >> This also works wonders for the slightly hairier marys among us – it helps to break down the keratin protein within determined bristles (I have one that won't relinquish its claim to my chin *shudder*), weakening the follicle and so slowing down regrowth.
3. FOOT PATROL
It's time for the 'big reveal' which means exposing hobbity feet to innocent friends, colleagues and co-commuters. A quick lick of polish makes toots look instantly (infinitely) better, but dry skin and cracked heels are a definite no-no. Cue Bliss Spa's Foot Patrol – a minty fresh lotion that intensively hydrates whilst softening and exfoliating dead skin and callouses (bleurgh). Salicylic Acid (a member of the AHA family) gently sloughs away dead cells, whilst peppermint oil works to cool, soothe (and de-whiff) hot, worn out trotters. Just slather this on before bed – massaging until absorbed – then stuff hooves in socks and awake to a pair of princess-worthy pieds.