Dear Cult Beauty Experts,
I am 45 years old. My skin type is fair with freckles (see image). My overall skin condition is good and I am fortunate to have few wrinkles. My skin can be a little dry from time to time. I look younger than my age but would like my skin to look better still. I do not like wearing heavy foundation but do want something that offers good coverage and provides a luminous glow.
Can you please recommend a suitable foundation or tinted moisturiser please. I currently use products by Laura Mercier and Chantecaille.
Thanks, Deborah

Hello Deborah,
We have the perfect product for you. It's by an ingenious make up brand called Jouer Cosmetics and this is their hero product. It won Allure Magazine's best foundation category last year; Jouer isn't an advertiser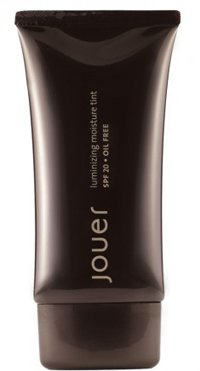 which makes this more meaningful.
The Luminizing Moisture Tint – which also has a matte sister product – is water resistant with an SPF of 20. It adds a luminosity to the skin, a subtle glow of health rather than a glittery, or even worse sweaty-looking finish, which some luminizers create.
The thing I love most about it is that once applied it really doesn't move. This is not a product to disguise extremely uneven skin tones, you will still see some of your freckles through it, but that is really the best result, a compromise between natural and the 'perfection' we are driven to try and obtain nowadays.
This is oil-free so if your skin is feeling particularly dry, I would add just a little more moisturiser beneath it. But that element is what makes this product so versatile across all skin types. I would recommend the pearl colour, but if you tan a little in the summer golden will look really lovely.
Should I be using a primer as well? I am also looking for a good moisturiser as well – something with an SPF as I often don't wear anything else on my skin.

Not with the Jouer ones.
If your skin has dry tendencies then your cleanser and moisturiser should be your main focus. I find balms – such as ones by Oskia, Omorovicza, REN, or an oil – steamed with a muslin cloth, are the most satisfying and efficient way of cleansing dry skin.
SPF Moisturiser-wise, the cheapest great option is by Alpha H. I wouldn't recommend it for oily skins and you only need to use a small amount, but it's really good quality for the price. The dreamy deluxe one is by Sunday Riley – the Cashmere SPF30 Advanced Sun Defence and pH Advantage do a lovely mid-range one.