There are years when a sea of black dresses produces amazing hair and makeup trends at the Oscars – when lips and eyes and jewelry are the visual focal point, with loads of color and shine and contour – and the dresses are just there to heighten an already fabulous figure. But this wasn't one of those years.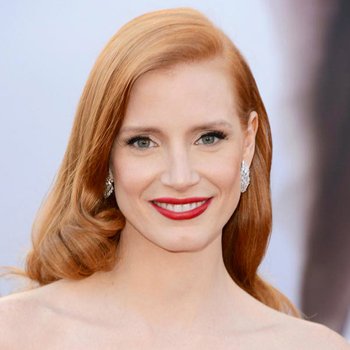 This was the year of the shiny major statement dress – gold, black, silver, shiny and molten – so everything else – wisely – had to be toned down. There was barely a classic Hollywood red lip in sight – except for that of Jessica Chastain (left), who went old school bombshell with side parted wavy hair – longer than usual, due to obvious hair extensions – and bright red lips with her gold tight Armani Prive' gown. Often, her habitual red lip clashes with her gown choices, but with the coppery gold tone it was a good bold choice.
Meanwhile, when are we going to have seen enough of this side-parted wavy hair look? It's starting to look a little staged and the waves look rather hard and tight – Helen Hunt's waves were very 'set' – you could also see the roller or curling iron marks. Reese Witherspoon's masses of super-wavy-hair-to-the-side look appeared like it might crack, it was so heavily lacquered. Wearing hair extensions is one thing – allowing them to veer to 'Cousin It' proportions is another.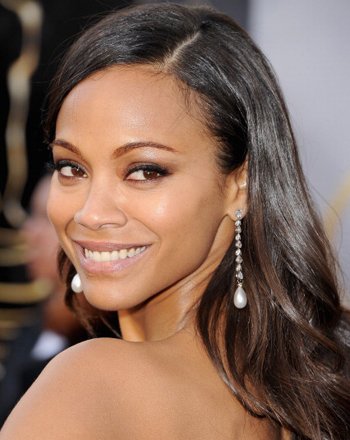 Jennifer Hudson's soft long hair was pretty and natural – but SO long it just didn't seem human. It came off as fake as Nicki Minaj's or Katy Perry's pink tones. Meanwhile, Zoe Saldana (right), in her splendiferous Alexis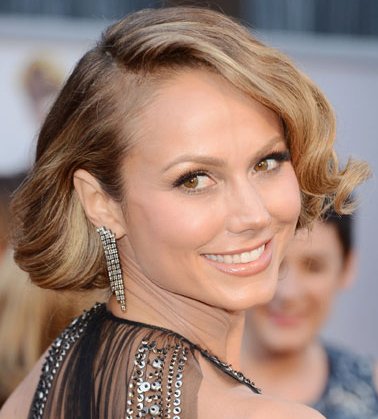 Mabille couture gown, had the perfect combo of waves and softness – her hair still moved and didn't look forced. There IS a middle ground, ladies! Stacy Keibler (left) went for the 1940's Marcel wave in her glittering Art Deco Naeem Khan metallic gown – but because it wasn't sprayed too hard, it looked quite pretty and appropriate. Wisely, she kept her makeup VERY simple or she would have looked like she'd stepped off the set of The Artist.
We all remember the time when the Oscars was all about sprayed up-do's and tight chignons – but things have loosened up considerably: Jennifer Garner, Amy Adams and Nicole Kidman all wore the majority of their hair pulled back loosely, with soft tendrils around their faces – this looked modern, pretty and natural – their dresses had such strong statements, they didn't need to do much. Undone is the winning style these days – purposefully loose and ever so slightly messy. Create this messy texture by spritzing Philip B's Maui Wowee Mist on wet hair, letting it air-dry while scrunching it a bit. Then put your hair up and curl a few tendrils to frame your face and finish with some Elnett to fix.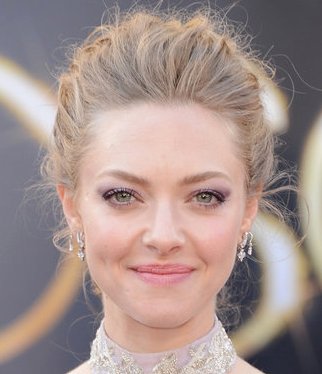 Naomi Watts did a rather pouffy updo, as did Amanda Seyfried (right) – pulled straight back with a bit of teasing and spray – a sort of modified pompadour. This looked dressy – but not particularly flattering. And it got even worse on Salma Hayek – her teased bun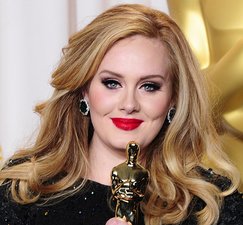 looked like it might topple her – and worse, it made her look rather matronly. Better was the pouf in Adele's hair (left) – which always seems to work for her, that Dusty Springfield smokey–voiced chanteuse sixties thing.
Worst hair of the night was a toss up between Melissa McCarthy – who seems to have bought the old Southern adage: "the bigger the hair the closer to God" – and Kristen Stewart, who didn't get the memo that modern and slightly sexy unkempt is NOT the same as fell out of bed with too many extensions hair.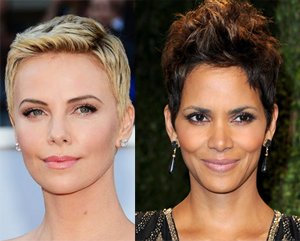 Oddly, it was the ladies with the least amount of hair – Charlize Theron, Halle Berry and Anne Hathaway – who looked the chicest and most glamourous of the evening. It was enough to make the rest of us running to the nearest stylist chop shop – but we have to remember: we don't all have their faces. Or their bodies. It helps to have perfect bone structure to pull off the boyish hair crop – just look at Michelle Williams. On the other end, there's 75 year old Jane Fonda, whose Sally Hershberger choppy shag looks lovely and fresh. The Oud Royal Gel shapes and holds these styles perfectly.
As for makeup – it was hard to find any really discernible trends. Where was the cat eye eyeliner, the smoky seductive violets and 'femme fatale' lips? The makeup at the Oscars this year was beyond minimal – it was not discernible. Anne Hathaway's pink lips were lovely (Private Pink is the perfect match) – her makeup is always fresh and feminine and her eyes look more doe and huge every time she steps out. Nicole Kidman also had a pinkish mid-toned lip – and Charlize looked like she had barely any makeup on at all.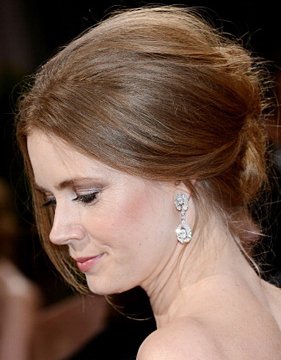 Amy Adams had a touch of blue grey eye shadow to match her blue grey pale Oscar de la Renta princess gown – but basically, there wasn't any lady who looked like she had anything more on her face than daytime makeup. Makeup artists were going with fall 2013 trends and not spring – it's all about the dress being front and center, and the jewels and makeup taking a backseat. But the smart ones among us know – it takes more product and more effort and more time to create natural makeup – "pretty and effortless" – than all the most glamourous looks in the world.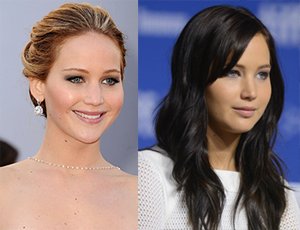 Meanwhile, Jennifer Lawrence stepped out of the Rossano Ferretti hair salon in Beverly Hills on Monday, the day after winning her first Oscar – with newly minted jet black hair (left), courtesy of celeb colorist Lorri Goddard. Word is, she's going back to work on Hunger Games' sequel soon – but we remember Katniss Everdeen with reddish auburn hair. Maybe Katniss goes goth? And Ben Affleck shaved off his Argo beard at a post Oscar party at Craig's restaurant in LA late Sunday night – he no longer needed to hide behind his lucky beard.