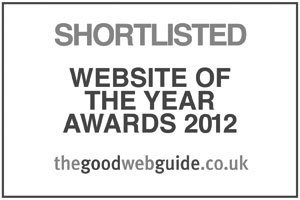 We are all of a kerfuffle at Cult Beauty towers (OK, 2nd floor offices with slightly wobbly floors) The sages at The Good Web Guide have whittled the rather large 'Retail' category down to three. Here's what they had to say about the competition:
"In judging the entries for this year's Website of the Year Awards, we were on the lookout for sites that were innovative and original or quirky; sites that you'd want to bookmark & tell your friends about. After much deliberation, we are delighted to announce the shortlist of the fourth Website of the Year Awards. These are websites that we hope you'll want to add to your favourites' list."
They also hold a people's choice award, if you think we should win click here (it takes 10 seconds).