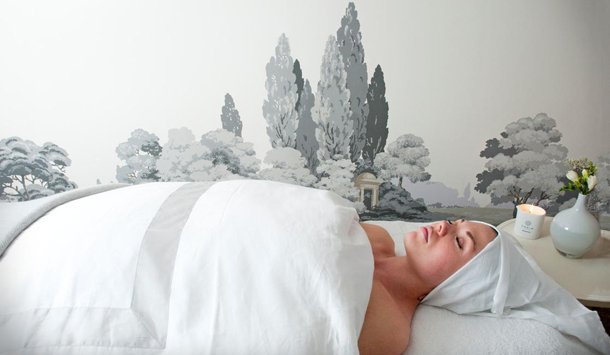 Cult Beauty expert Emma Day has just discovered the delights of Oskia Skin Care in the best introduction one can have to a skincare range, a facial:
"As ever, the demands of my work mean that I am always on the lookout for new and exciting skincare brands and while I remain ever faithful to certain brands, it doesn't mean I'm not curious to see what else is out there. Call it a slight obsession actually…Alexia from Cult beauty suggested I check out the UK brand Oskia and I was sent the tingly, skin saving Renaissance mask and Get up & Glow Booster and asked to road test them. Suitably impressed by my seriously radiant skin having sampled both goodies, I arranged to book in for a facial to get to know more about this brand.
Oskia is that perfect marriage between naturally sourced ingredients and scientific input and in this case it really WORKS….Free from artificial fragrances, chemicals and parabens, it certainly has the requirements that I look for in skincare for both myself and my clients.
The Oskia treatment rooms are a calm haven in the midst of Covent garden, decorated stylishly in whites and greys mirroring the Oskia packaging – the treatment bed has a water-based mattress and so you literally melt into it before you have even begun. Enveloped under a duvet, the delightful and serene Charmaine started her work on my rather tired skin (a late night previously and constant flying in the last month had depleted me somewhat). My skin was then cleansed, massaged, blackheads extracted, with refreshing hot towels delicately refreshing me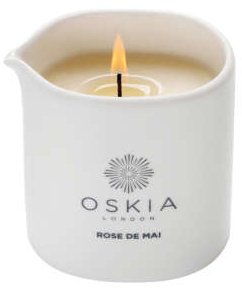 between each part of the treatment whilst the delicious smells rendered me virtually comatose.
An interesting factor of this facial is the Skin-soothing Massage Candle which is burnt while its Rose de Mai scented oil is massaged in ones arms, shoulders and hair – I am a massive fan of the healing properties of rose oil and this is an especially delicious and unique part of this experience. So the final result, after and hour and a quarter of serenity. Well my skin certainly looks incredibly fresh, glowy and clean, my cheekbones seem a little higher and my face is less puffy and baby soft. I look after my skin religiously and fortunately its in pretty good shape but I think this is a great brand for those with sensitive or hyper allergic skin. As well as my face looking a million times better, my energy levels were restored and my head felt clear. So full marks to Oskia, I for one will certainly be packing this brand in my kit bag in the future, not to mention having it on my bathroom shelf. My favourite ever facial was with skincare guru Sarah Chapman and as a comparison this comes very close to what I would hope for in a high end facial." Emma Day