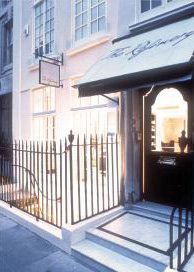 Despite the fact that for most women, waxing of some sort is a tedious but necessary part of our beauty routine, most men still shy away from the prospect of having their body hair ripped from its follicles – funny that. However more and more are braving the wax to achieve a smooth, hair-free body and with summer holidays looming, many hairy fellows might be thinking about taking the plunge. We decided to send a hirsute guinea pig down to The Refinery in Mayfair to try out a classic back and shoulder wax and report back on his experience.
Our newbie found the atmosphere of the male grooming salon to be spot-on – not intimidating, but stylish and with the look of a gentleman's club. His therapist, Simran, began by cleaning the skin on the back and applying tea tree oil and lavender balm. Then came the wax – and let's be honest, it's always going to be painful, especially on the first time and if you have thicker hair. As you'd expect from The Refinery, an establishment that aims to make every treatment as luxurious as possible (even the ouch-inducing ones), the wax was infused with gold, to give the skin a sheen, and soothing chamomile.
After the waxing was finished, he was given some lotion to put on his back and told that after three weeks he should use a loofah to exfoliate the area to prevent ingrown hairs. You also shouldn't shower for 24 hours, and avoid swimming for 72 hours to avoid irritating the skin. In conclusion: it hurt a bit, but wasn't remotely as scary as our newbie had expected, and he's delighted with the results and already planning to make his next appointment and looking forward to a hair-free summer.
Back waxing costs £35 at The Refinery, 60 Brook Street, London, W1. 020 7409 2001