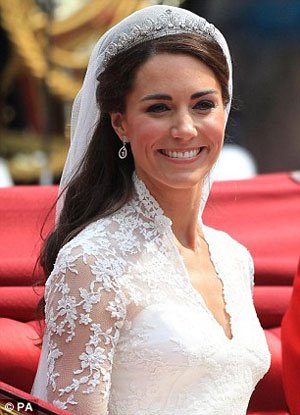 Much has been made of the fact that the new Duchess of Cambridge aka Catherine Middleton did her own make-up for her wedding to Prince William at Westminster Abbey and of course her spectacular McQueen dress, but who got their hands on that famous mane, and who made sure her nails were perfectly polished? Well we're delighted to report that the team who got Kate Royal-wedding-ready on Friday included not one, but two members of the Cult Beauty expert panel – Richard Ward and Jo Hansford!
James Pryce of the Richard Ward salon has been cutting Kate's hair for years and for her big day, did a subtly glamorous take on her normal glossy curls – because she wanted to feel like herself as she walked up the aisle to meet her Prince. This was a smart move – too often brides-to-be feel obliged to opt for a stiff, formal 'up-do' because that's what they think wedding hair 'should' look like – but they don't feel comfortable or confident because it deviates so drastically from their normal look.
James and Richard had been working on their plan for Catherine's wedding hairstyle since she gave them the commission in January and had practised on a member of their staff (wearing a plastic tiara!) behind a locked door at the Chelsea salon. Pryce said, "She was very keen to have a romantic theme throughout the whole look so that involved lots of soft waves and curls and but then still obviously keeping the back down and showing off those luscious locks… I'm glad she didn't want to have it all down. I would have thought that personally that would be a little too relaxed especially when you're using the tiara."
Richard was on hand to make sure everything went smoothly: "I was passing up pins to James and mopping his brow and ticking off each little thing we did for Kate's hair. We had it all written down. I was just there really to keep him calm. It was quite a nice time for me because usually the pressure is always on me and although I felt it along side James, ultimately he was going to be actually doing that look. We worked on it for months, the pair of us, and I had been involved in all the trials and God forbid if anything happened to James on the morning I could have done that look with my eyes closed too. We both could. We knew it back to front."
And the nails? Camilla, Duchess of Cornwall treated Catherine to a manicure courtesy of Marina Sandoval from the Jo Hansford salon. Marina was driven to Clarence House the day before the wedding to give Catherine's nail the signature manicure which included a soak and exfoliation, followed by a deep tissue massage and filing, buffing and finally polishing. Marina mixed Bourjois No. 28 and Essie nail polish in Allure to create a unique shade for the wedding: 'Catherine wanted something very natural looking and I felt these matched her skin colour beautifully. She wanted something off-white and bridal, so these were absolutely perfect. She was very pleased with the result and told me that it looked beautiful and elegant.' The bridal fingertips were finished off with a coat of Seche Vite Fast Dry Top Coat to prevent smudging and chipping when that wedding ring was slipped on, somewhat awkwardly, by Prince William.
Apparently mother-of-the-bride Carole had a few make-up essentials tucked away in her handbag just in case, including a tube of trusty Elizabeth Arden Eight Hour Cream! So let's finish with a final photo of the happy couple emerging from Westminster Abbey to greet the crowds as man and wife. Sob!