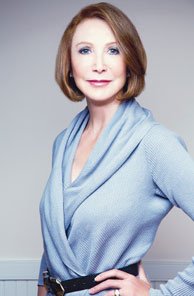 Jane Iredale is the original mineral make-up brand. It is so caring for the skin that all the top dermatologists and plastic surgeons recommend it to their clients to use on super-sensitive or even laser-treated complexions. Beauty addicts and make up artists rave about the beautiful formulations and ingenious product developments like the Magic Mitt and Dot the i make-up remover swabs.
But what about the woman behind the brand? Jane Iredale started her career as a casting director in TV, working with actresses like Lauren Hutton, Cybill Shepherd, Susan Sarandon and SJP. Her work helped her understand the importance of a clear complexion to a woman's career and confidence and this led to her developing her own line of mineral make-up in 1994 – well ahead of the curve. In her own words, Jane Iredale explains why she decided to launch her own mineral make-up range…
"I didn't think of it as starting my own line. I had show-biz burn-out and I was looking for something I could do that would enhance the lives of women and have some healing aspect to it. I'd seen the bad affects of make-up when I worked with actresses and models as a producer, so it suddenly occurred to me that there was a place for makeup that was good for the skin. I started out with a loose powder made from minerals and developed the line from there. We're still developing.
We initially started out with plastic surgeons and when we first developed our make up we really didn't know what to do with it, where the best fit was. We started out as laser resurfacing began in the States, and we grew up alongside that. Plastic surgeons are very comfortable about using minerals on skin that has been compromised after face lifts, laser, any kind of surgery, especially procedures such as breast operations, where the skin tone can be evened out very quickly with minerals and let the woman get back to normal life, wearing the clothes she wants to. Post-laser patients are able to cover the resultant long-lasting erythema, calm the itching and burning and provide physical sun protection to their vulnerable skin."
We incorporated in March, 1994 and started with five colors of loose minerals. My first account was The Oaks at Ojai and that propelled us into the professional market. It was the perfect niche for us because we were with people who knew how to educate the consumer before mineral make-up was known. That became an important component of our growth.
The greatest reward is the sense of satisfaction I get when customers tell me what a difference our products have made to their lives. This ranges from people who just love it because they're makeup junkies to people with challenges like scarring and birthmarks. The emotion is so genuine that it spurs me on to do more and more.
There are a number [of favourite products] but the one I wear every day is our Pressed Base, also love by our expert Sarah Chapman. It works in all climates, day and night and never lets me down.
SHOP ALL JANE IREDALE PRODUCTS NOW >>