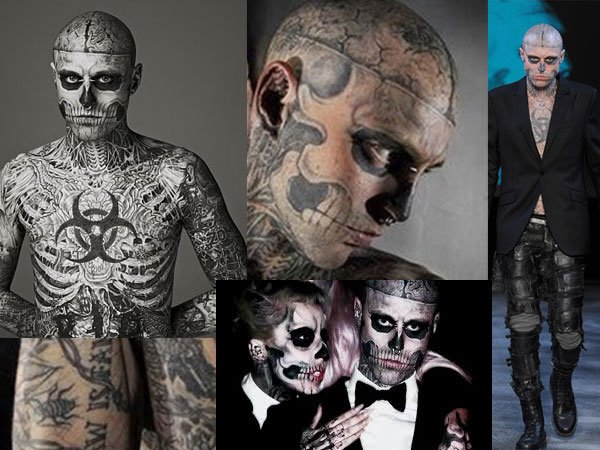 One of the questions on everyone's lips at the moment is… who is 'Zombie Boy'?
Recently, he has become something of a fascination, a mysterious and shocking figure appearing in Lady Gaga's new video for 'Born This way' and walking for Terry Mugler at Paris Fashion Week.
So who is he? Well, his name is Rick Genest. Originally from Montreal, Canada, he began his tattoo transformation in 2006, ever so bravely, with his facial skull tattoos. By 2008, his transformation had taken over 24hours in the artist's chair. So why the zombie tattoos? "When I was a kid I fell in love with zombies wanted to become one..the closet thing I could get to becoming a zombie was to get tattooed like one. I'm so used to them now I don't see them anymore," Rick says.
In late 2010 Genest took on a new identity with his tattoos, Rico. Rico was spotted by Nicola Formichetti (Thierry Mugler's new Creative Director) on Facebook. Formichetti immediately chose Rico to walk in the Mugler menswear show in January and alongside Lady Gaga in Mugler's womenswear show, whom Formichetti styles. Not surprisingly he has listed Rick as his muse. However, for the most part, Rick is an enigma. No-one knows much about his personal life at all, no-one knows his exact age and there are almost no pictures of him pre-skeleton tattoos. He exudes a certain mystery… and I have to say, I'm a huge fan. But maybe it's just my love of horror films creeping out.
What we do know about Rico, is since starting his skeletal canvas he has received colossal amounts of respect and adoration on blogs all over the internet. Worldwide people are describing him as beautiful, artistic, poetic and grand. He is extraordinary, his tattoos are resplendent and a representation of grotesque dedication. I find it oddly reassuring that the fashion world is perhaps embracing something other than obvious beauty…how about you? nadine bourne