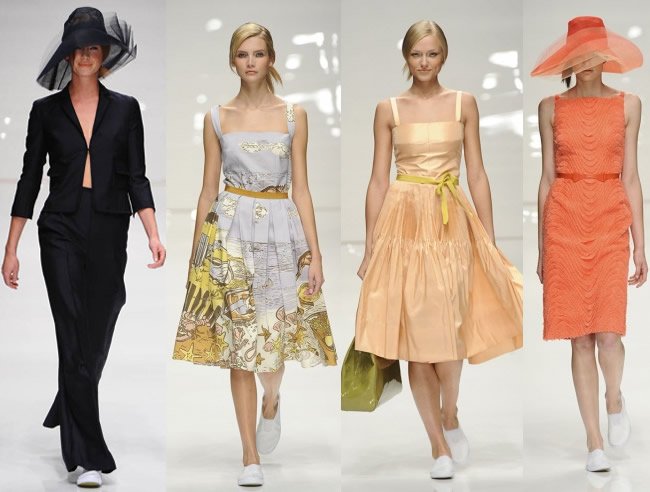 Jasper works the classics like a true don. His spring/summer 2011 show was beautiful. He started with a black and white Chanel inspired look. Below-the-knee white chiffon dresses, stretch cotton high-waisted skirts with built-in cummerbunds and short fitted jackets. The look then moved onto short shorts and 50's style pleated skirts with matching tops, sexy seaside scenes adorned some skirts. Short white laced dresses and paisley print dresses with cashmere cardies to worn off the British sea wind glided the collection into rich gold and orange taffeta skirt and top combo's.
Heavenly colourful cloches and floppy hats by Stephan Jones topped off the look and our feet were given an easy ride with white plimsolls which kept the collection looking fresh and young.
Val Garland made our skin luminous and fresh. 3 coats of Embryolosse moisturiser (I am dying to get this on board at cult beauty, it is such a brilliant product) were massaged into my skin, followed by YSL's Top Secret Primer, Armani's Luminous Silk Foundation with Armani's Retouch Concealer and finally a dusting of Laura Mercier (lordhavemercy) Secret Brightening Powder. For the eyes, an "invisible line" (pro talk for a line that links your lashes together from the root) in black, prep and prime Mac powder, Mac's shell cream color base in nylon topped off with black Prolash Mascara. Val's current fave highlighter is our very own Jemma Kidd's in ice gold. I am SOO investing in this little wonder pot. A mixture of Lucus Papaw and Mac's Paintstick was painted on our lips.
For the hair, Peter (he now takes 2nd place in my crush list to Duffy) gave us a twisted bun. You'd think a look that us women do all the time would take seconds to construct, but this is for fashion so it has to survive a beating from clothes changes we are required to do at break-neck speed. So my hair was soaked in Shu Uemura Fiber Lift Protective volumiser and then dried by 3 hair dryers, 2 Mason and Pearson brushes and 1 hand. I felt all shook up. A small plait up the nape of my neck worked as an anchor for the wee bun. I was asked which side my hair liked to be parted on, the hair was then twisted and pinned into place. The look was finished off with Elnett for that perfect hold. And then a hat was put over my head which meant you couldn't see the trouble the hair-dressers had gone to.
Trish Lomax did a beautiful natural french manicure. She is amazing and soo quick. Love love love Trish. olivia inge