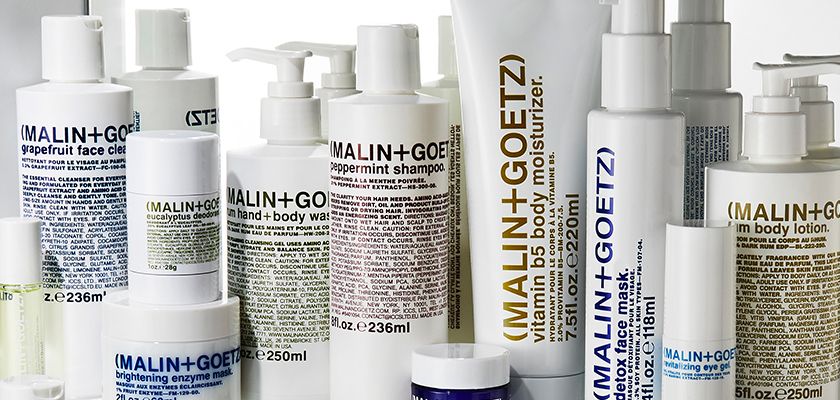 MALIN + GOETZ
Inspired by New York's inclusivity and diversity, MALIN + GOETZ dreams up skin care and fragrances for all genders, types and tones. Co-founded by Matthew Malin and Andrew Goetz, the brand pairs natural ingredients with advanced technology to create everyday essentials that treat targeted concerns. Built on the ethos that less is more, MALIN + GOETZ simplifies our beauty routines with gentle products, that even the most sensitive of skin types can enjoy.
DISCOVERMALIN + GOETZ
Born in 2004 within the Chelsea neighbourhood of New York,MALIN + GOETZ is on a mission to uncomplicate your skin care regime. Inspired by the Big Apple's inclusivity and diversity, the brand creates products that can be used by everyone – no matter your gender, skin tone or type. Built on the ethos that "less is better" and "honesty is the best policy",MALIN + GOETZ's skin care and fragrance are powered by gentle formulas and honest, skin-loving ingredients.The result, an effective and efficient beauty routine with simple, straightforward steps.

THE STORY BEHIND MALIN + GOETZ
Discovered by Matthew Malin and Andrew Goetz, the eponymous brand first came about when the co-founders where limited in shelf space in their small New York apartment. Realising there was a gap in the market for simplified skin care, the duo created just sixessential products that wouldbenefit all skin types. Fast-forward to today andMALIN + GOETZ dreams up everything from fragrances and candles to body andskin care.
MALIN + GOETZ'S PHILOSOPHY
MALIN + GOETZ prides itself on a less, but better, way of life. All its formulas have beendesigned to deliver morebenefits with fewertasks.But thisphilosophyextendsfarbeyond the products, it accounts for all areas within the brand – from lesssteps in your routine toless packaging and waste.
MALIN + GOETZ'S ECO-CONSCIOUS COMMITMENT
Doing what it can to better our planet,MALIN + GOETZ's formulas are all mindfully designed with planet-positive ingredients, while its productseliminate all unnecessary packaging.What's more, the brand works with local family businesses to ensure all manufacturing is done within a 90-mileradius. This not only helps the neighbourhood, but limitsMALIN + GOETZ's carbon footprint too.