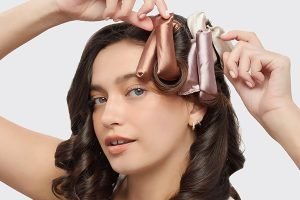 Heatless curls: they've been all over our FYP for months, with some people even reverting to using socks (shock horror) to wrap their hair around… But how do you get those perfectly bouncy curls, come morning? We've got all your questions answered so you can shimmy out of your silky head wrap knowing you've got your strands sorted. 
First up, what are heatless curls
Put down your curler, wand or hair straightener, you won't be needing them with this technique! Heatless curls are exactly what you think they are – a curling method without the need of any heat. By that we mean, wrapping your tresses with flexi rods, silk ribbons and even jumbo hair curlers, locking them in place for a couple of hours (or overnight), to create beautiful, blown out body. This is a perfect way to save your strands, if you've overdone it and damaged your lengths with the hot tools , have colour treated hair or are simply looking for a quick and effective way to get show-stopping locks… It only takes five minutes to wrap and that's it! 
How to create the perfect heatless curls
1. Start with a shampoo and conditioner duo, that work together to smooth and define your curls. We suggest Larry King's A Social Life for Your Hair.  Infused with vitamin B5 and a sugar-based complex of wood and seaweed, this duo delivers sleek, glossy strands with a bit of grip — ready for your styling products.