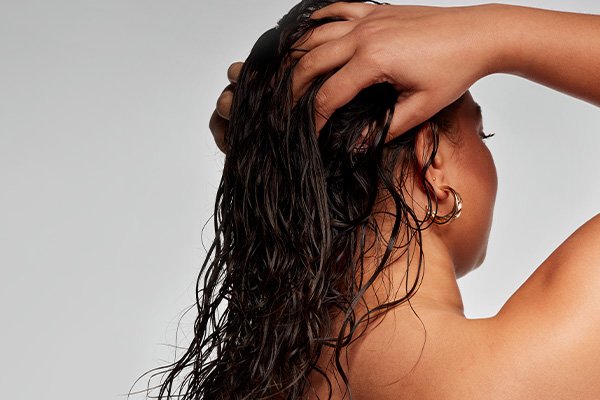 My housemate often says that living with me is like living with a Yeti — I leave a trail of hair wherever I go. Whether it's in the kitchen or the bathroom, in my bed or in the bath, there's hair everywhere. Like, everywhere everywhere. I can't help it… I just seem to shed hair like there's no tomorrow. Often, I lose so much hair that I wonder if I actually will have any left on my head when tomorrow comes.  
If this scenario sounds familiar then, like me, you may be wondering if there's anything you can do to prevent hair loss and promote the appearance of healthy hair growth. The good news is there are ways to do just that, but first we need to understand what's behind our hair loss to determine if it's fixable. 
What causes hair loss?
Let's get one thing straight: it's totally normal to lose hair. In fact, most of us lose between 50 and 100 hairs each day… something which my shower drain can certainly attest to. Although hair loss isn't usually something to worry about, occasionally it can be a sign of a medical condition, according to the NHS (so it's worth seeing a GP or medical professional if you're concerned). 
Before setting out on a journey to rescue strands sent down the plug hole, it's worth noting that some types of hair loss are permanent — such as pattern baldness (which is genetic) and old age. Not all hair loss is irreversible though, as temporary hair loss can be caused by stress, weight loss, pregnancy, illness or certain medical treatments. 
Whatever the cause behind your hair loss, it can — understandably — be upsetting. After all, for many of us, our hair makes up an important part of our identity and is often a means to express ourselves, without which we may feel a knock to our confidence. Importantly, however, let's remember that we're more than just what we look like and hair loss is neither something to be embarrassed about or something we should measure ourselves against. Whether you've got five or 150,000 hairs on your head, you're hot — just the way you are! 
Meet your hair loss must-have
If the hair loss you're experiencing is temporary, such as postpartum hair loss or hair loss caused by stress, there are products out there that can help combat this. Enter: the Revitalizing Fortifying Serum from Hair Rituel by Sisley, a serum so beloved that one sells every four minutes across the world (per TM1's Worldwide Sell-In 2020).  
Considered an elixir for healthy, strong and radiant strands, this serum harnesses the nourishing powers of zinc, copper, magnesium and multiple vitamins to boost hair's vitality. Other star ingredients include rice protein and linseed extract, alongside soothing alpha-bisabolol — a powerful blend of actives that strengthen strands and improve the appearance of density, while also protecting hair's natural colour.