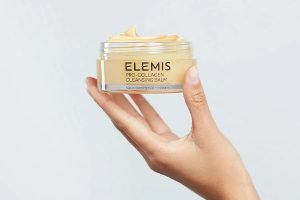 When ELEMIS launched its now-iconic Pro-Collagen Cleansing Balm back in 2013, the brand could have only dreamt of the phenomena it was going to stir in the skin care world. To this day, the fan-favourite formula continues to wear the crown as one of the ultimate cleansing balms, filling bathroom cabinets around the UK – and the world – ten years after it was first released into the beautysphere. 
LET'S RECAP: WHAT'S A CLEANSING BALM?
Just in case you're new here, let us explain what the job of a cleansing balm is. To put it simply, cleansing balms are designed to easily remove make up and daily grime whilst helping balance the skin's pH level and protect the skin's natural moisture barrier; it's the first – very important – step in your cleansing routine. 
Why did ELEMIS' original Pro-Collagen Cleansing Balm take the top spot, we hear you ask? Firstly, it boasts a three-in-one formula that transforms into three unique textures: a balm to nourish, oil to cleanse and milk to hydrate. Secondly, the brand's range comforts the skin and senses with skin-loving ingredients and the infusion of sweet-smelling scents. So, you can expect a sensorial experience as soon as you open the lid.