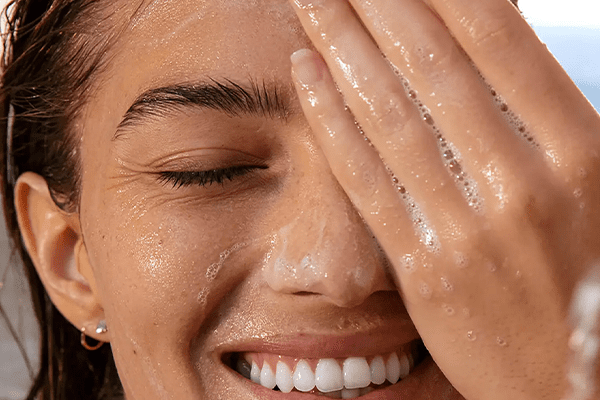 It's true…cleansers are a fundamental part of any morning and evening skin care routine. But even we can admit that it's not always practiced as much as it's preached. We've all been in the position where we've jumped into bed before melting away the day.  
Well, luckily for you , we've put together the ultimate cleansing guide to ensure you swipe away any unwanted impurities to boost a clean complexion morning and night. Trust us, the cleansers' benefits are worth adding those extra few minutes to your beauty regime… 
WHAT IS A CLEANSER
In short, a cleanser is a product used to remove make up, dirt, excess oil, dead skin cells and any other impurities from the surface of your skin. Providing ample skin care benefits, the everyday essential works by unclogging your pores, while gently exfoliating the top of your skin cells. The result? A clean, cleansed and refreshed complexion.  
TYPES OF CLEANSERS
With many various formulas on the market, finding the perfect cleanser for your skin type isn't always an easy task. With that in mind, we've broken down the most common types of cleansers to see which one is right for you. 
FOAM CLEANSERS
Typically starting out as an oil or cream before transforming into a foaming lather, the aptly named foam cleansers are a great balancing solution for normal or combined skin. Leaving your complexion clearer and shine-free, they remove excess oil while leaving you with a soft, supple and smooth sign off. 
SHOP ALL FOAMING CLEANSERS >>> 
GEL CLEANSERS
Designed to clean out pores, gel cleansers are ideal for congested, blemish-prone and oily skin. Doing what it says on the tin, the formula is made into a gel texture and tackles everything from congestion to resurfacing your skin for a healthy and happy glow. 
CREAM CLEANSERS
Ideal for those with dry, sensitive skin, cream cleansers deliver a nourishing dose of hydration. Gentle and soothing, they are lightweight to avoid irritation. 
OIL CLEANSERS
Providing maximum results with minimal effort, oil cleansers (also referred to as cleansing balms) dissolve the day away with one swipe. Packed with skin-nourishing nutrients, they target specific concerns to leave your skin feeling clean, balanced, and radiant.
FACE WASH VS FACIAL CLEANSERS
While they share some similarities, face washes and facial cleansers have many key differences – discover how to distinguish the two below… 
FACE WASHES: With a sole purpose of removing dirt and oil from the surface of your skin, face washes are water-based product that often contains stronger ingredients that work better for oily or congested skin. 
FACIAL CLEANERS: Facial cleaners not only remove unwanted impurities from your skin's surface, but they also boost moisture and balance your complexion – without stripping your natural oils. The result? A hydrated and nourished complexion. Typically richer in texture, cleansers do not contain sodium lauryl sulphate (an ingredient common in soaps), which can cause irritation.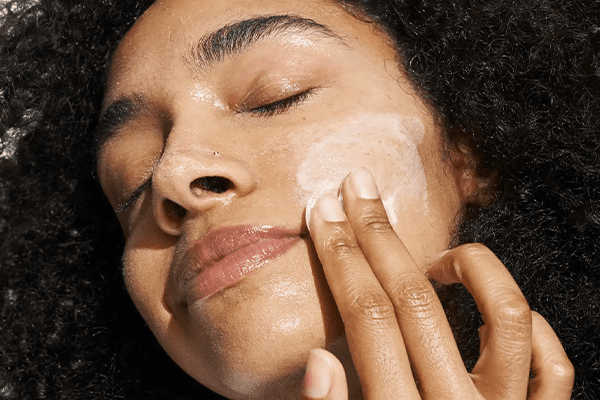 WHAT ARE THE
CLEANSER BENEFITS
CLEAR BUILD UP: One of the primary benefits of adding a cleanser to your skin care routine is that it cleans up your complexion, removing any unwanted impurities (we're talking dirt, dead cells and debris) while smoothing out your skin's surface. 
PREVENT CLOGGED PORES: When used consistently, facial cleansers help prevent and shield your skin from clogged pores. How? By banishing build up, the gentle exfoliation of the everyday essential removes dirt and oil, helping to alleviate pre-clogging dead skin cells.  
HYDRATE YOUR SKIN: Cleansers that include dew-drenching ingredients such as hyaluronic acid, ceramides, vitamin E and more, promote and lock in moisture to quench your complexion's thirst while leaving you with a soft, supple and smooth surface.  
BOOST A BRIGHTER COMPLEXION: Facial cleaners work hard to enhance a radiant complexion in lots of different ways. A case in point? When wiping away dry and dead skin cells, the formula begins to reveal a fresh layer of skin and its natural glow. Plus, cleansers are synonymous with stimulating blood circulation, encouraging blood flow to your face for some added (and much-appreciated) sheen.  
CREATE A CLEAN CANVAS: The use of cleansers promotes advance penetration of other products which you may use following this vital step. Creating a clean canvas for your toners, serums and moisturisers, the skin care saviour primes and preps your complexion for better results. 
HOW TO USE CLEANSERS
Different types of cleansers have different steps to achieve a clear complexion. So, the best way to find out how to use cleaners is to follow their packaging's instructions. However, having said that, there are some tips and tricks which can be applied to ensure you get the best results.  
Use them day and night

When it comes to cleansers, consistency is key. They should be the first step in both your daily morning and night-time skin care routine.

 

Wet your hands and face first: I

f you're going to use a rinse-off facial cleanser, then it's best to wet your hands and splash your face with water before applying. This will help you create a superior lather that grabs onto the dirt and oil before rinsing.

 

Always clean your hands first

: Clean hands are imperative when touching your face, even more so before cleaning your face. Our tip?

Before cleansing your skin, use a hand wash— that way you can avoid transferring bacteria from your fingers to your face.

 

Use cleansing as a massage:

We don't know about you, but we never say no to a massage. So why not use your cleansing routine as an opportunity for a little pampering?

With the tips of your fingers, gently massage your face wash onto your skin with small circular motions and use light pressure before rinsing off with water. This not only makes you feel relaxed, but it boosts your face's blood flow. 

 

Adjust your water temperature:

Cleansing your face in lukewarm water can help prevent stripping the skin of its natural oils and from your face feeling tight after a wash. Extreme hot or cold water temperatures can have the opposite effect of what you're trying to accomplish, so it's important to get it

just

right. 

 
THE BEST CLEANSERS RIGHT NOW