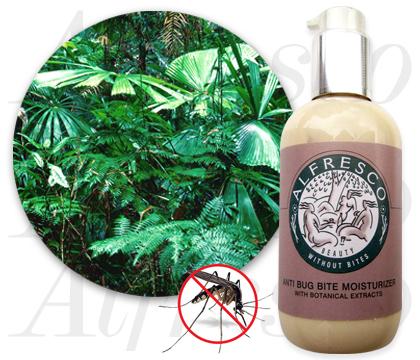 Keep Bug-Munchers At Bay The Natural Way with Charles Worthington fave Alfresco Insect Repellent. It's also recommended by the London School of Tropical Medicine and loved by Halle Berry, Madonna, Penelope Cruz, Nicole Kidman, Robert Redford, Jude Law, Kristin Scott Thomas and Nicolas Cage.
Insect bites can really spoil your summer and resorting to overpowering sprays full of toxic chemicals is an unpleasant option. We love Alfresco natural insect repellent moisturiser, use it towards the end of a sunny day when your skin needs a good emoliant and the bugs are starting to think "dinner"! Alfresco's sweet, spicy fragrance smells lovely to humans, but is repugnant to insects, especially mosquitoes. This repellent is DEET-free (the chemical used in many repellents, which is just as toxic to you as the bugs) and instead uses botanical extracts of twenty blended essential oils (including Geranium, Lavender, Cinnamon and Melissa) to keep insects away. It's even safe to use on the kids.
A volunteer at the Chelsea Physic Garden, Alfresco founder Sarah-Lou Morris spent her life being eaten alive by the inhabitants; so she decided the merge her love of botany with her wish to avoid being the main course, now you can too.
Alfresco is available in two sizes, £25 for 200mls or £12.50 for 2x50mls travel size bottles.