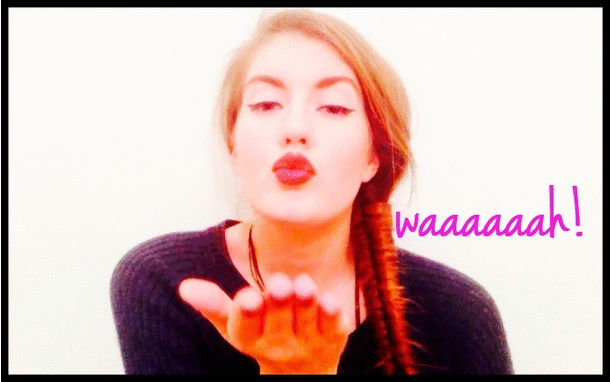 Firstly, can we all please take a moment to congratulate me on my first .gif? …I'd like to thank my mum and dad, for having me. My niece for instructing me in the method of 'fishtail' plaiting, and Google for letting me type in 'How do I create a gif from photos'. I thank you. *cries in style of Gwyneth Paltrow*
With Valentine's Day on the horizon, and February fast turning into fifty-shades-of-freakin'-misery, I can think of few better reasons to adopt a shocking orange lipstick and practise a pucker to make VB proud. Obsessive Compulsive Cosmetics' Lip Tars are high-impact, hard-wearing and suitably snog-proof (should the mood take you and the right (wo)man grab you). The cute-as-paint tubes fit smugly in pockets (yes, smugly, not snugly) and only the tiniest dot of super-saturated pigment will give you a kisser worth pouting about.
My favourite mood-enhacing shades are (from left to right) 'Psycho' – über-vivid coral red, 'Pretty Boy' – blue toned fuchsia, 'NSFW' – rich blood red and 'Black Dahlia' – a deep, blackberry (don't knock it 'til you've tried it)! Mwwwwwaaaaaaah! Happy St. Valentine's Day sistaz! Remember… girlz rule, boyz drool. 4eva. i.d.s.t.