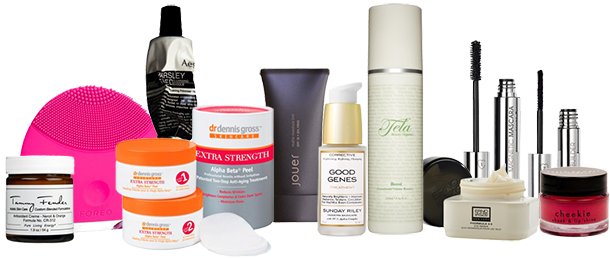 We have introduced some amazing new members to the cult over the last year. At this time of reflection I wanted to put together a little top ten list of the superstars that really blew me away.

Sunday Riley Good Genes – From the day I discovered this product I formed an unhealthily obsessive attachment, the next morning results from using this as a night cream mean that this would have to be prised from my cold, dead hands!
Tela Organic Haircare Boost – If you've read this blog for a while you will know about my battle with thinning hair, this is my wonder-styling-weapon of choice. It's natural and it works obviously, with minimum effort. All I do is spray into towel-dried roots and blow-dry my hair upside-down and mu hair appears to have doubled in volume.

Julie Hewett Cheekie – This product is so underground only A-listers know about it, this will change next year. Julie Hewett is a make up brand I predict will become massive in 2014. This product will lead the way, a little dab on each cheek naturally lifts your complexion taking 10 years off.
Aesop Parsley Seed Masque – Oh Aesop, great packaging, solid scientific credentials, natural ingredients, amazing results on the skin, this product has beauty and brains. You all seem to agree in your masses…

Dr Dennis Gross Alpha Beta Peel 30 Day Treatment – Use in the winter, this month-long treatment took the surface of my skin back a few years. It became more even and saw the disappearance of about 20% of my wrinkles, errr YES!

Erno Laszlo Phormula 3-9 Eye Repair – I am naturally skeptical about eye creams, if one has a good moisturiser and serum one can usually save a bit of cash in that area. This had a Disney-style magic effect on my dark circles: Yes, you shall not look like you went to the ball last night…

Foreo Luna – I haven't owned this for very long and I'm already totally hooked and so is my skin, so easy, so hygenic and most importantly economical for both environment and purse. Every morning it leaves me with such lovely plump, clean skin.

Jouer Matte Moisture Tint – Lauded as brilliant for oily skin, I've found this also works brilliantly on my dry type too for a flawless and lasting look. The love affair with Jouer isn't going anywhere, I'm considering moving in…

Tammy Fender Anti-oxidant Creme – A stonking daily moisturiser that starts making your skin look better after two uses. My dry skin stays lusciously even all day, with no tell-tale dry patches appearing at 5pm and it's a wonder base for Matte Moisture Tint.
—

Santhilea Magnetic Lash – For nights where I'm going for total vamp I now no longer need to stick my eyelids together with my kak-handed attempts at false lashes application. This mascara does it for me.