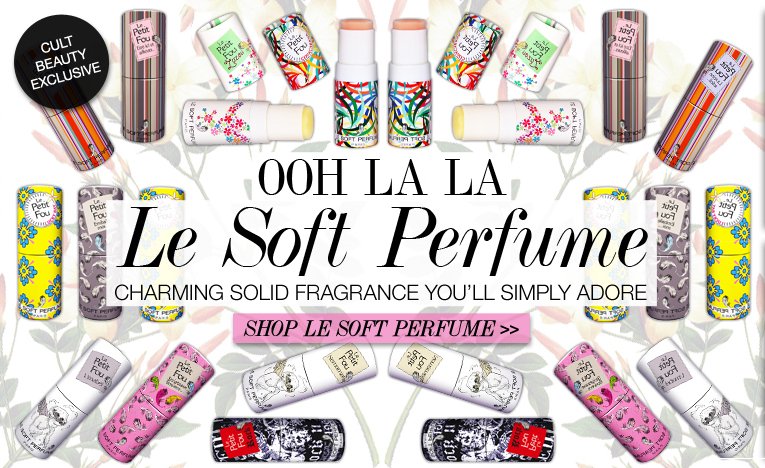 Charming and playful with a soupçon of French sensuality – Le Soft Perfume solid perfume sticks are just perfect for channeling your inner ingénue, or unleashing your dormant 'belle dame'.
Isabelle Masson Mandonnaud – co-founder of Sephora – met Philippe Vignon (who spent 20 years with l'Oreal) two years ago, and together they have pooled their vast experience in the beauty industry to create this adorable range of solid fragrances.
Le Soft Perfume not only offers a choice of ten distinctive scents – from the sensual 'Copacabana', sunshiny 'La Reine Soleil' and anarchic 'Rock' – but, thanks to Philippe's cosmetic knowledge, they also nourish, moisturise, firm and replenish the skin with Shea, Mango and Monoi butters. Completely free from alcohol and parabens, these adorable solid fragrances are suitable for even the most sensitive skin types, and because they weigh next-to-nothing and comply with the new international aviation laws, your perfume can stay in its rightful place – your handbag – wherever, whenever you travel.
We asked Isabelle some questions about Le Soft Perfume – what inspires her, who she admires and where the idea came from…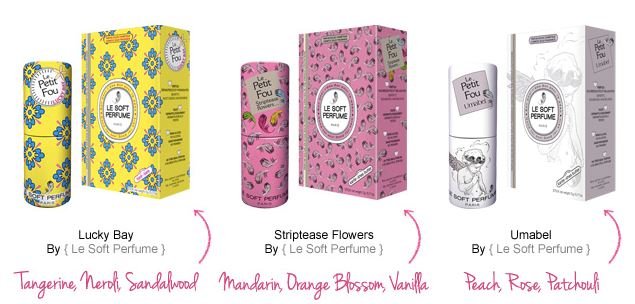 1. What inspired you to start Le Soft Perfume and why did you choose a solid fragrance over a traditional spray?
Solid fragrances were the original form of scent and I wanted to harness this tradition, whilst making it feel fresh and modern. The fragrance sticks allow for little 'perfume caresses' – perfect for popping in handbags or taking on travels.
2. What are the benefits of the three different bases – Shea, Mango and Monoi butter?
Shea is naturally nourishing and relaxing, Mango (paired with Tamanu oil) has firming and anti-ageing benefits whilst Tiare (Monoi oil) helps to moisturise and repair stressed skin.
3. Which scent would you recommend for a beach-side holiday/a city break/a romantic getaway?
The feel of each perfume is very personal as each 'Petits Fous' (meaning 'A Little Crazy') conjures different associations and means a different thing to different people. Personally 'Copacabana' and 'Lucky Bay' remind me very much of summer – beaches, late night dancing and surfing; 'Emballe Moi' and 'Striptease Flowers' are very sensual scents while 'Les Anges' ('Umabel' and 'Nemamiah') are both comforting and relaxing. I also love to wear 'La Reine Soleil' in the evening – I keep one in each of my clutch bags.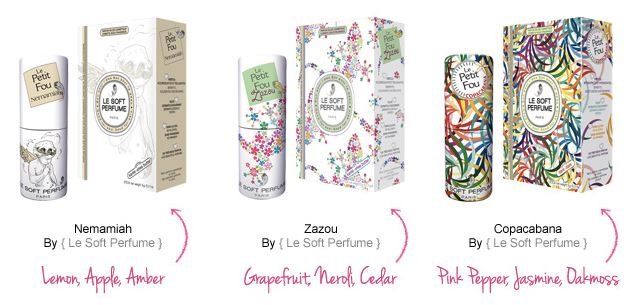 4. Do you have a persona in mind when designing the fragrances. Is there a character (real or imagined) who embodies the mood/story behind each scent?
I'm inspired by my encounters and my travels. My daughter, Victoire is always at the forefront of my mind when devising a new scent, as well as my mother who wore Miss Dior and possessed and incredible elegance. Famous women who steer my creative subconscious are Gabrielle Chanel, Jeanne Moreau, Vanessa Paradis, Meryl Streep – all strong, empowered, intelligent women who defend ideas.
5. Who designed the gorgeous packaging?
I draw the artwork myself then the illustrations are reworked with a graphic designer – the brilliant Alain Dieumegard – in our studio in St. Briac sur Mer in Brittany.
6. The packaging says 'Respects the planet' – can you tell us what this means?
It's part of our brand DNA. All of our packaging is fully recyclable, as it's really important to us to leave the least possible irreversible print on the planet.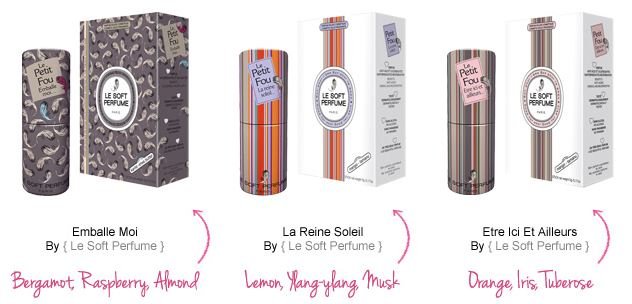 7. How do you come up with inspiration for the scents and the stories that describe them?
Life inspires me! Each movement of nature, every step is a wonder. I cut, paste and collage pictures and photographs into old school notebooks – they're like ever-evolving moodboards.
8. Do you develop the fragrances yourself or collaborate with a 'nose'?
I imagine the sort of fragrance or scenario I want, then I present one of my scrap books to a 'nose' who develops the notes to bring my imaginings to life.
DISCOVER LE NEW SCENT-SATION >>