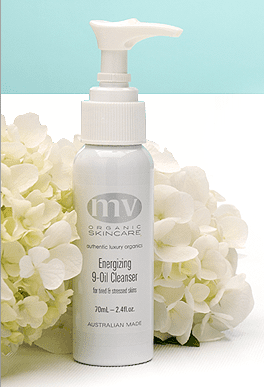 The founder of MV Organic Skincare, Sharon McGlinchey, recently popped into Cult Beauty towers on a quick visit from Australia and we all took the chance to quiz her about the range. The more I learn about MV, the more I adore the range and all who sail in her.
Old fashioned – in a good way – in both its thinking and small-batch quality of production, they represent a gold standard of natural skincare. There's a cleanser utopia for sensitive skin called Gentle Cream Cleanser, less irritating than finding a tenner in an old jacket.
My favourite is the 9-Oil Cleanser, which is soon to have a name change to 9-Oil Skin Tonic because it is not a first cleanse and this was causing confusion. 9-Oil is for clearing, brightening and vitalising your skin. Before bed I massage this into a make up free face and then steam with a muslin cloth – soaked in hot water and squeezed out – laid over my face.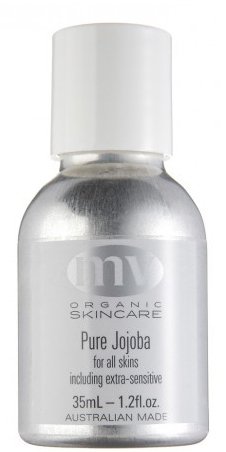 But the product that wins Multitasking Master is the Jojoba Oil. People write into us all the time asking for a make up remover that won't irritate, whilst actually getting the make up off. Eyes right >>
Take two cotton pads, wet them in hot water and squeeze them out so there is no excess moisture. Open the pad out again, draw a line (about 3 drops) of Jojoba oil across the centre and hold the pad against your eye. Let the oil sink into the surface make up and then gently wipe it all off. This not only melts your make up and cleans the area, Jojoba has one of the closest chemical make ups to your skin's own sebum, it moisturises and protects the area too.
The product the experts make a beeline for (as well as Maggie Gyllenhaal & Rosie Huntington-Whitely) is the Rose Moisturiser, when used after the Rose Hydrating Mist (while your skin is still damp) a tiny amount of this moisturiser is the perfect anti-ageing skin protector.
MV Organic Skincare prices range from £26 for the Pure Jojoba Oil to £70 for the Travel Essentials. The way your skin blooms and the aromatic experience, especially with steam cleansing is sublime. Be warned, MV Organics is addictive.