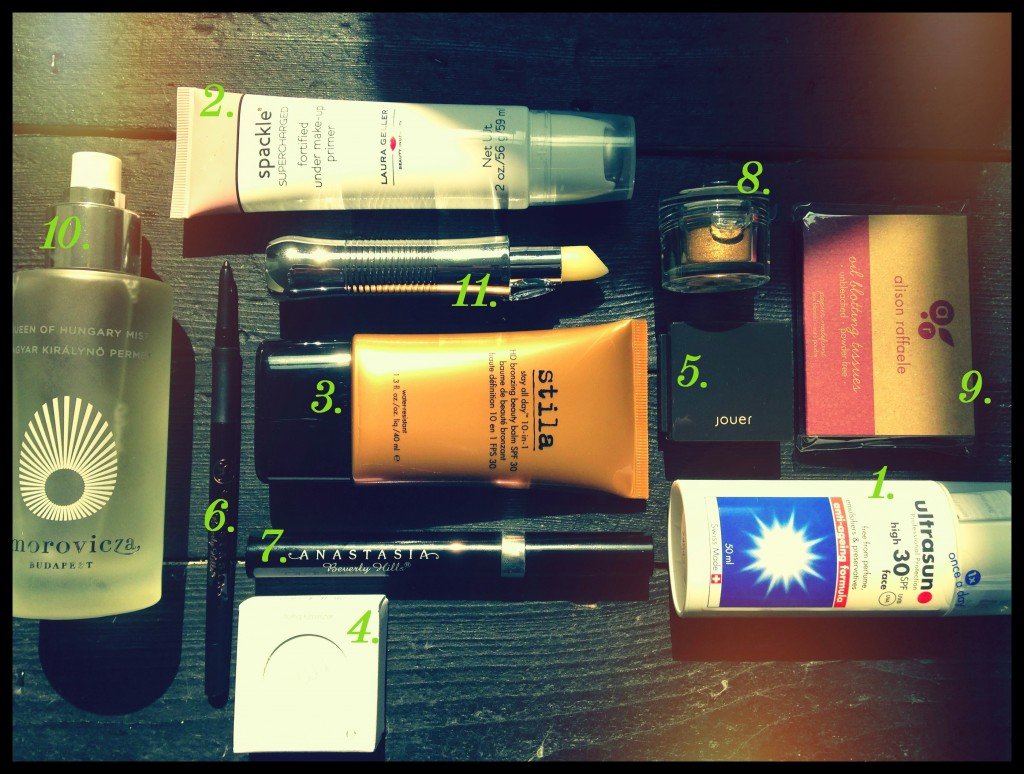 Whether you're suffering summer in the city or struggling to maintain your poolside holiday cool, sunshine, sweat and swimming are all contributors to make up mayhem. Many find that their usual fail-safes let the side down once mercury rises, so we've put together a heatwave survival kit, to help you stay cool and look smokin'.

<< A hard-wearing, non-greasy sunscreen is essential, to create a perfect base for make-up without exacerbating shine. Ultrasun's SPF 30 Face (1.) is a once a day sun filter, that binds to skin forming a long-lasting, skin-friendly barrier against the ageing effects of solar radiation.
TIP >> It's not enough to rely on a tinted moisturiser or foundation with added SPF (unless you're spending most of the day indoors). Even when it's cloudy, you're still advised to use at least a teaspoonful of sunscreen for your face and neck – massage any excess into the backs of your hands.
After fifteen minutes, apply a unifying primer such as Laura Geller Beauty's Spackle® Supercharged Fortified Under Make-Up Primer in Roller (2.), which glides on via a stainless steel roller ball that helps soothe inflammation and reduce puffiness, whilst delivering an ultra-lightweight, skin enhancing veil of sheer make-up that fortifies skin and protects from free radical attack. Phewf!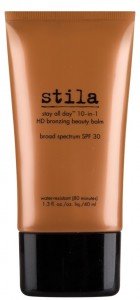 If you're looking a little pale, Stila Cosmetics' Stay All Day 10-in-1 HD Bronzing Beauty Balm SPF 30 (3.) can be worn alone, mixed with sunscreen, or just patted and blended along cheekbones (and any other contours that naturally catch the light), to lift your complexion without suffocating skin. >>
RMS Beauty's Living Luminizer (4.) can then be blended along the brow bone, cupid's bow and buffed either side of the bridge of the nose, to illuminate skin with a subtle, dewy glimmer.
A blush meets lipstick is ideal for low-maintenance make-up looks (and excellent for streamlining your baggage). Jouer Cosmetics' Cheek & Lip Tint in Amaryllis (5.) – a creamy soft red – might look daunting, but grants an exceptionally pretty, realistic flush to cheeks (not many of us naturally blush pink or coral), and can be layered on lips from a just-bitten tint to a bold, punch of pigment

Line eyes with a water-resistant eye liner (such as Anastasia Beverly Hills' Covet Waterproof Eyeliner (6.)) and eliminate the likelihood of panda eyes or black mascara rivulets, by setting your lashes with Lash Genius (7.) – a clear, waterproof top coat.
TIP >> Lash Genius can also be used to set eyebrows, so colour them in with a pencil or powder, comb through and fix with this miracle wand.

To make eyes dazzle (or draw attention to exposed shoulders, shins or collarbones), Belmacz 'Blitz' Gold Leaf Eye Shadow (8.) looks beautiful on sun-kissed skin. A tiny amount goes a looooooong way and a dab on the inner corner of each eye, really widens and brightens your peepers – maximum reward (with minimum effort).
Keep Alison Raffaele's Blotting Tissues (9.) in your bag for mattifying your t-zone – it seems counter-intuitive to add product to minimise shine when you're hot, bothered and sweaty – so these oil-absorbing tissues are a godsend.
<< A quick spritz of Omorovicza's Queen of Hungary Mist (10.) will set (and revive) your make up, as well as help cool you down when you're stuck on public transport, or having a mini meltdown on your travels. And an SPF lip balm is crucial to keeping your kisser safe in the sunshine. KaplanMD's Lip 20 Moisture Therapy & SPF (11.) protects, plumps and intensively hydrates in one feel swipe.