The best things in life are free… which is why we're giving away FIVE samples when you spend £30 on Cult Beauty.*
And if you need a bit of inspiration, see below for what's new and back in stock…
1. HELLO SAILOR >>

The ultimate one-shade-fits-all berry, this turns from navy blue to a beautiful see-through plum that stays put… however many sailors you may snog!
2. JEAN QUEEN >>

Like the perfect pair of jeans, finding the right lipstick is like making a new best friend. Jean Queen is a blush pink (great for making teeth look whiter), silky lip colour that perfectly offsets the blue hue of your favourite denim for a super-hot, insouciant vibe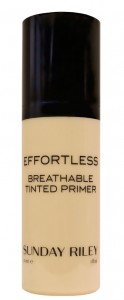 3. EFFORTLESS BREATHABLE TINTED PRIMER >>
The review speaks for itself… "This primer (and 'Good Genes') have refreshed and revitalised my 51 year old skin like no other products before and believe me when I say that I have tried the lot! ! My skin looks refined and tightened; I have a healthy glow, my adult acne is dissipating and I no longer need to reach for foundation before leaving the house. This is the first review that I have ever left for cosmetic products – that's how bowled over I am!"

4. BEAUTY ELIXIR >>
A healthy, skin-feeding facial spray for a glowing complexion, Beauty Elixir manages to be both a toner and serum simultaneously. It uses extracts of grape, rosemary, orange blossom, rose, myrrh and organic balm mint to both tighten pores and perk up sluggish skin – perfect for refreshing your face (and waking you up) at that 4pm lull in the work day… Keep it on your desk and spritz before a meeting or post-work drinks or dinner.

5. FUZZ OFF >>
A super quick and easy way to bid farewell to unwanted facial fluff, this depilatory cream dissolves hair without irritating – and it doesn't have that tell tale hair removal smell. So much less traumatic than plucking (ow-eeeeeeeee), Bliss have answered the prayers of the reluctantly moustached.

6. MAUI WOWIE BEACH MIST >>
For those desperately seeking 'Sports Illustrated Swimsuit Edition Hair' (SISEH), you can finally call off the search. This styling spray lets you easily achieve that random, tousled texture and body that hair gets after a long day spent frolicking on the beach. A heavenly scented combination of Orchid and Tahitian Gardenia works together with Aloe Vera and Algae extracts to fortify hair without weighing it down, while Kukui and Coconut oils work in tandem with sea salt surf spray to protect your mane while leaving it totally Kate Upton-worthy.
*Offer valid for one day only, beginning 10am (GMT), Thursday 27th June 2013 – ends midnight 27th June 2013.