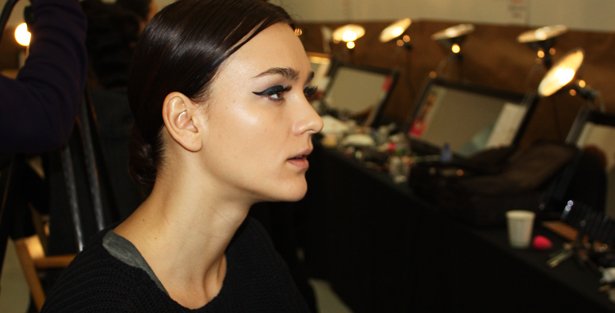 We were lucky enough to sneak a peek behind the curtain at the Kate Spade A/W 2013 Presentation where Jouer's National Makeup Stylist Neil Scibelly was creating a look he calls an "Ode to New York City". Specifically the golden age of NYC when Warhol held court at the party glam HQ known as Studio 54.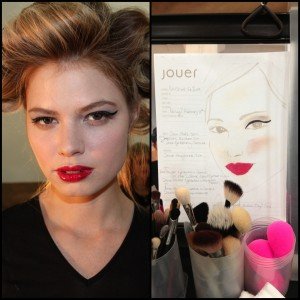 While a dramatic eye flick and crimson lip can't make a completely seamless jump into our daily beauty routine – that doesn't mean all backstage beauty is lost on us…. Instead lets use the same high-performance products, but tone down the trend so people don't judge you on public transport:
Prepare your facial canvas with Jouer's Matte Moisture Tint to create a clean and matte base for the skin, using the Age-Repairing Concealer where needed. The best tool for this is the psycadelically pink BeautyBlender you see in the image to the right.
Use a light cream shimmer shadow as a base all over your lid then line with the Liquid Shimmer Liner then finish with a good, extra black volumizing mascara like DuWop Lash Venom. Next, brush on a hint of pink to your cheeks with Mineral Powder Blush the top it off with a little Essential Lip Enhancer for a high gloss finish.
P.S. Cult Beauty have decided we want a room full of BeautyBlenders to jump into when stressed… they are just so CUTE!